Bringing out the best in bold eye-catching residential, retail, hospitality and commercial displays, WAC Lighting introduces the DUO AC 120-Volt LED Light Bar with Color Option. Utilizing a nearly 100 percent efficient reflector, the light from the LED sources within the body is diffused inside the mixing chamber in order to create evenly distributed illumination.
The luminaire features a flick of a switch that allows the user to alternate the color temperature from 2700K to 3000K, depending on the application and user preferences.
The DUO AC Line Voltage LED Light Bar offers a contractor-friendly task lighting solution that installs easily and directly mounts to surfaces, including cabinets, shelves and other display and utilitarian spaces. This LED luminaire is ideal for illuminating heat sensitive perishables and color sensitive apparel and collectibles.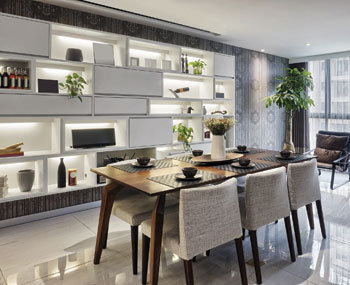 The luminaire dims down smoothly, glare-free and continuously, using an electronic low voltage dimmer (ELV) or TRIAC dimmer while providing uniform illumination and minimizing glare.
With just a one-inch profile, the Light Bar features multiple knockouts for ease of wiring. Crafted of extruded aluminum for optimal thermal management, it is offered in three architectural finishes including bronze, brushed aluminum and white. The luminaire is available in five sizes, ranging from the 8-inch 6-watt model delivering 330 lumens to the 30-inch model using 17.5 watts and deploying 1095 lumens.
About WAC Lighting
WAC Lighting believes that a key part of being a Responsible Lighting company is to provide a product offering that is progressive in both design and technology. Groundbreaking innovations in LEDs, materials engineering and creative optical design are paving the way for endless possibilities. With over 100 engineers on staff and over 1 million square feet of fabrication and manufacturing capabilities across four factories, WAC puts creative and forward thinking minds behind solving the most challenging lighting needs with advanced technologies.
WAC is a second-generation family owned and operated lighting company with a reputation for quality spanning over 30 years. Optimized electronics in upscale luminaire designs include a full range of LED products from Task, Recessed, Track, Accent, Under Cabinet and Decorative lighting, to a groundbreaking LED Landscape line.
WAC Lighting can be reached at 1.800.526.2588 or by visiting www.waclighting.com.