Designed as the perfect lighting solution to fit shallow plenums above ceilings in residential and light commercial settings, the Aether IC Rated family from WAC Lighting is engineered with a low profile 3.5-inch LED shallow housing and has added a new color changing option. This housing is ideal for installation into small ceiling spaces inside buildings with complex HVAC ducts and heating/water pipes that are located between the floors.
Using WAC Lighting's exclusive optional Ilumenight App, the user can take the space from pure warm white to a cool white color temperature, as well as red to violet and every color in between. All of these color temperatures and brightness are available with just a touch of the finger.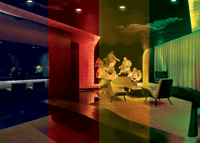 Aether, Winner of The Lighting for Tomorrow Award, is one of the industry's only high-output LED ceiling down light housing with such a shallow depth. Energy Star rated and wet location listed for a variety of applications, Aether fits into ceilings with thicknesses that range from just .50 to 1.5-inches. The luminaire operates as a down light for general illumination, a wall wash for illuminating walls, and an adjustable fixture for accent lighting and mounting to sloped ceilings.
Utilizing WAC's proprietary LED technology, Aether operates with just 22.5 watts and delivers up to 1375 lumens, nearly doubling the performance of a 75-watt MR16 halogen fixture. The luminaire is offered with a 15-degree narrow beam ranging up to 50-degree flood beam for various applications.
Color temperatures range from 2700K to 4000K with a color-rendering index of up to 90. The luminaire dims beautifully with an electronic low voltage (ELV) or 0-10V dimmers and is rated for a 70,000-hour life.
Aether features a 3.5-inch trim aperture with a 35° cutoff angle so illumination is directed precisely where needed. It includes a universal driver that ranges from 120-220-277 volts. Both round and square trim models are available. Trimless styles are offered for a clean, architectural look on today's ceilings.

About WAC Lighting
WAC Lighting believes that a key part of being a Responsible Lighting company is to provide a product offering that is progressive in both design and technology. Groundbreaking innovations in LEDs, materials engineering and creative optical design are paving the way for endless possibilities. With over 100 engineers on staff across four factories in the US and China, WAC puts creative and forward thinking minds behind solving the most challenging lighting needs with lighting technologies. All designs are thoroughly tested in internationally recognized NVLAP, UL and ETL certified testing laboratories for safety, durability and robust long-term performance far beyond required standards. With over 1 million square feet of fabrication and manufacturing capabilities, WAC offers an industry-leading infrastructure that turns concepts into fast to market products. But above all WAC is a company that cares about employees, products, and reputation and clients. As a family owned business WAC chooses to manufacture products responsibility with zero landfill impact and help to preserve the planet for our children and grandchildren. Its merit-based mission is to build the most respected lighting company and be a shining example of American ingenuity.
Fueled by a passion for creating, WAC is a second-generation family owned and operated lighting company with a reputation for quality spanning over 30 years. Its choice has consistently been to operate at a higher level of responsibility giving customer s the true benefits of a world-class factory direct relationship. WAC has a history of inventing and looking at thins in a fresh new way to make technology-leveraged products widely accessible. Theses perspectives are guided by listening to everyone involved in the process from conception to installation and many ideas have come from customers and help us to imagine our future a as a better and brighter place.
WAC Lighting Global Headquarters is located in Port Washington, New York, with Factories in New York, Ontario, California and Atlanta. WAC Lighting can be reached on the spec hotline at 1.866.788.2100 or by visiting www.waclighting.com.