Visionaire Lighting proudly announces its newest LED outdoor luminaire — the Premier.
This low-profile, architectural beauty is offered in 42- or 84-LED configurations. This post top's pleasing 4,000 Kelvin light illuminates evenly and elegantly; while tapping the latest in Light Emitting Diode technology to reduce running costs. It provides up to 50% energy savings over traditional HID light sources, and offers excellent beam control.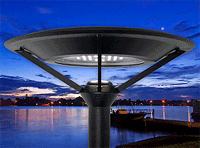 "The Premier's exceptionally well-designed thermal management system really saves," explains Bill Hein, Visionaire Lighting's Vice President in Charge of Product Development and Technology. "By shedding heat quickly, the Premier extends LED life beyond 100,000 hours in our 350 and 530 milliamp systems. That's pretty exceptional."
The Premier comes in optical patterns of Types I, II, III, IV and V; and is offered in a variety of architectural colors to match any environment. It also comes with a hefty, five-year warranty.
To find out more about the Premier, visit the products section of Visionaire Lighting's website, and select the architectural category. For quotes and ordering information, call (310) 512-6480, or e-mail Visionaire Lighting's Quotes Department.
Visionaire Lighting is a leading manufacturer of high-performance, specification-grade outdoor lighting — offering a wide variety of quality, architecturally-designed fixtures and poles. Company is best known for its patented Vision Reflector System™, which significantly boosts photometric output to reduce both initial and performance costs. Dark-Sky approved for environmentally-conscientious and neighborhood-friendly lighting, Visionaire Lighting's fixtures are the ideal solution for most urban, suburban and street lighting applications.