Power management company Eaton today announced that the home field of the Vanderbilt University men's baseball team, Hawkins Field in Nashville, Tennessee, has installed an advanced light-emitting diode (LED) system designed to enhance the viewing experiences for spectators while reducing energy use by as much as 75 percent.

The Commodores opened their season under the Ephesus Lighting LED system on February 19 against the University of San Diego and play three more night games this week on March 15 versus Northern Illinois University and March 18 and 19 against Mississippi State University.

The new LED system features Ephesus Stadium Pro lights and a DMX control system, which enables dynamic fan experience effects and increases operational flexibility. The lights at Hawkins Field have instant-on capability, eliminating the warm-up period associated with more traditional metal halide lighting products.

"Our new LED lights from Eaton's Ephesus Lighting make Hawkins Field an even better place to play and watch a game," said Kevin Colon, associate athletic director, Vanderbilt University. "As we researched the LED lighting options available, it was clear to us that Ephesus Lighting had the best solution from the standpoint of lighting quality, operations flexibility and energy efficiency."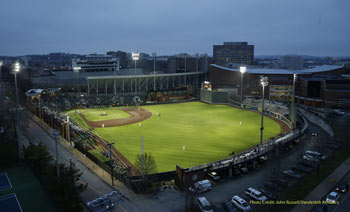 The Ephesus LED lighting system offers better quality lighting than the previous system and through its industry-leading glare-control innovations, its fixtures shine more uniformly on the playing surface, creating a better stage for players and fans both in the stadium and those watching on high-definition television. The versatility of an LED system also allows for operational flexibility and the creation of programmable light shows for fan entertainment. Ephesus LED solutions are easy to install, virtually maintenance-free for years and offer facilities the lowest total operating costs compared to other sports lighting systems.

"Since we installed the first LED lighting system in a North American sports arena, facility operators have come to understand that our digital lighting solutions create an enhanced stage for fans and performers," said Mike Lorenz, president, Eaton's Ephesus Lighting business. "Our recent installation at Globe Life Park, home of the Texas Rangers, Hawkins Field at Vanderbilt and others, illustrates that baseball stadium facility operators are clearly seeing the benefits that our digital lighting solution offers them, as well as their fans, players and broadcasters."

Since lighting the first sports venue with LED technology in North America in 2012, Eaton's Ephesus Lighting luminaires have been operational for over 200 million hours at indoor and outdoor sports and entertainment venues across North America including the University of Phoenix Stadium (Arizona Cardinals); the Canadian Tire Centre (Ottawa Senators); Bridgestone Arena (Nashville Predators); Duke University; Cornell University and many more. Additionally, Sun Life Stadium, home of the Miami Dolphins, and U.S. Bank Field, the future home of the Minnesota Vikings, are both installing Ephesus systems this off-season.

For more than a decade, Vanderbilt University has had one of the nation's most successful baseball programs. They enter the 2016 season ranked #7 by Baseball America and inside the top 10 in all of college baseball's most respected pre-season polls. Head Coach Tim Corbin has compiled a 567-271 record in his 14-year tenure including consecutive appearances in the College World Series, finishing as runner-up in 2015 after being crowned national champions in 2014.

Eaton's Ephesus Lighting business manufactures high-output LED lighting solutions for challenging applications in the industrial and sporting markets. The business is focused on innovating advanced LED solutions that will enrich and illuminate the world, by creating brighter, more vibrant and more sustainable environments. For more information, visit www.ephesuslighting.com, contact 315-579-2873 or [email protected].

Eaton's electrical business is a global leader with expertise in power distribution and circuit protection; backup power protection; control and automation; lighting and security; structural solutions and wiring devices; solutions for harsh and hazardous environments; and engineering services. Eaton is positioned through its global solutions to answer today's most critical electrical power management challenges.

Eaton is a power management company with 2015 sales of $20.9 billion. Eaton provides energy-efficient solutions that help our customers effectively manage electrical, hydraulic and mechanical power more efficiently, safely and sustainably. Eaton has approximately 97,000 employees and sells products to customers in more than 175 countries. For more information, visit www.eaton.com.