VOLT® Lighting, leading manufacturer and distributor of lighting products, is recognized today with a prestigious Product Innovation Award (PIA) for its VOLT® ShadowMaster™ LED Path & Area Light. The awarding organization, Architectural SSL (Solid-State Lighting), honors the most innovative lights on the market. They also acknowledge leaders in the field working to advance the technology.
Alan Brynjolfsson, Founder and President of VOLT® Lighting, comments on the award, "Receiving the Product Innovation Award confirms that our development team is on the right track. They are a creative and talented group that work hard every day to make the new products our customers want."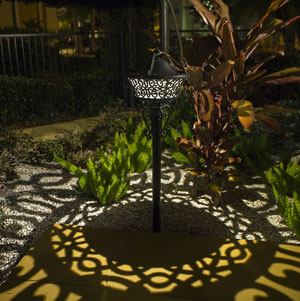 The awarded product, the patent-pending ShadowMaster™ has several distinctive features. Unlike most path and area lights, the ShadowMaster™ is large - standing 35 inches tall, nearly twice the height of most others. It also has a distinct ornate filigree style. Both the size and ornate appearance complement larger estates - especially those with wrought iron embellishments.
Brynjolfsson adds, "Even more impressive than its daytime appearance is what happens after the sun goes down. The ShadowMaster™ projects a pattern of light and shadow that covers an 18-foot area. The light displays the same filigree pattern as with the daytime appearance. So, even at night, the fixture complements the architectural style of the estate."
Some of the judges commented on their reasons for giving the award, "… creative solution to designing an enjoyable/dynamic light pattern with shadow play, … I see an application for this in hospitality, specifically in vineyards and wineries, … it's hard not to love this product as it has an aesthetic presence both day and night."
VOLT® Lighting is known for its prolific product development program (see VOLT Lighting Launches Over 100 New Products in 2016). This aggressive pace is largely due to the company's investment in their Innovations Lab, a state-of-the-art facility with CAD-driven 3-D prototype printing and an array of photometric test equipment. Unlike many other manufacturers that outsource their new product development, VOLT keeps it in-house.
At the time of this news release, VOLT Lighting has just received its second Product Innovation Award. This one for their Coachman™ LED Path and Area Light - another product conceived in the VOLT® Innovation Lab.
About VOLT® Lighting
VOLT Lighting, leading factory-direct landscape lighting manufacturer, pursues an aggressive strategy of continuous product improvement and new product development. For more information, go to http://www.voltlighting.com.
About The Architectural SSL Product Innovation Awards (PIA)
The Architectural SSL Product Innovation Awards (PIA) determine and honor the most innovative LED solid-state luminaires and fixtures on the market, while also recognizing the companies behind the components that make up these light sources. The PIA program also recognizes leaders pushing to make solid-state lighting a truly sustainable technology.