Targetti, is presenting an exclusive preview of the first Targetti light fixtures in the North American market that will be fitted with innovative Dynamic Beam Shaper (DBS) technology. The exclusive technology, from the American company Lens Vector, delivers variable optics that can vary the beam opening using digital input without the use of any mechanical system.
Targetti DBS enabled fixtures are fitted with an optical system that can dynamically vary the beam opening angle passing in a gradual manner from a more concentrated SPOT (around 10°) type emission to a wider WIDE FLOOD (around 50°), flowing fluidly through all the all points in between. This technology is based on the use of liquid crystal lenses that make it possible to vary the beam without using any mechanical or mobile parts but by using an IoT control system. Each fixture is controlled using a Casambi® application that makes it possible to dim the source, set the desired beam opening, create dynamic scenes and change the color temperature in Tunable light versions that will soon be available.
Targetti, with a wealth of successful experience in developing optical systems and meeting the different market needs in terms of design flexibility, has made the DBS technology available in the United States in three popular products: CLOUD, CCT Led, and LEDO'.
"The US range of professional luminaires that were specifically selected to incorporate the DBS technology are some of our most requested products in the North American market. Our engineering team has incorporated this innovative technology into the existing feature set to help further meet specific design needs in architectural lighting where the quality of light and beam definition are essential requirements." declared Marie Paris – CEO of Targetti USA. "For the first time it is possible to provide interior designers and lighting designers with an electronic beam control system that is dynamic and precise. This unique technology provides designers the option to choose a single fixture and vary the emission to obtain the most suitable output for the project."
"Our liquid crystal lens technology invisibly integrates with the luminaire to give designers precise control of their illumination schemes that's only possible with digital technology," said Brent York, President and CEO of LensVector. "With LensVector, Targetti's projectors can project beams from wide flood smoothly down to a focused narrow spot without a lamp or reflector change and designers are no longer limited by fixed beams or luminaires with moving parts."
For more information on Targetti's offering of DBS in the CLOUD, CCT Led and LEDO' visit www.targetti.us.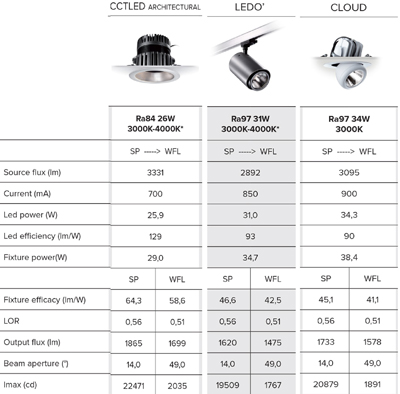 About Targetti
Targetti has been designing and producing indoor and outdoor architectural light fixtures since 1928. For ninety years our products have been the epitome of innovation, research and attention to detail. We work internationally with the aim of contributing to the quality of the environment we live in with our products.
About LensVector
LensVector is transforming the shape of light from fixed reflectors and lenses with digital LCD technology that allows light to be infinitely shaped on demand from IoT platforms, mobile devices, and modern control systems.