Stylmark, the industry-leading manufacturer of large-format tension fabric light boxes, today announced two new sleek, double-sided frame offerings in a standard depth of 8 inches and a narrower depth of 5 inches, both of which accommodate graphics up to 30 feet in length.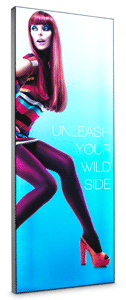 Both products feature a frameless appearance to keep the consumer's attention focused on the imagery and message of the fabric graphic. The DS5 has a depth of 5 inches and is lit by perimeter LED modules for light box displays up to 6 feet by 30 feet. For light-box displays up to 10 feet by 30 feet, the DS8 is lit by dual rows of perimeter LED modules and has a depth of 8 inches.
Taking advantage of Stylmark's engineering expertise, the DS5 and DS8 open new avenues of creativity for fabric graphics. The large display area afforded by these units makes them impossible to miss at any angle. Both the DS5 and DS8 are pre-assembled to minimize field installation times and are available in Stylmark's wide variety of anodized finishes.
"As large-format graphic printers push the envelope when it comes to fabric printing capabilities, Stylmark has taken that challenge seriously by developing the DS5 and DS8," says Shane Vail, Vice President of Sales and Marketing at Stylmark. "With the ability to accommodate fabric graphics up to 30 feet, these new members of the Optima LED Light Box family are truly in a league of their own," added Vail.
The DS5 &DS8 and the complete line of Optima LED light boxes will be available for viewing at the GlobalShop Expo on March 24–26, 2015, at the Mandalay Bay Convention Center (Booth #1435) in Las Vegas, NV.
About Stylmark
Founded in 1954, Stylmark is a leading designer and manufacturer of finished fixtures and full solutions – from aluminum and steel products, to LED lighting, showcases, fitting rooms, shelving, kiosks, architectural moldings and more. Stylmark's extensive inventory of stock and custom products and solutions are designed to work together, creating comprehensive and distinctive lifestyle environments. For more information about Stylmark, visit www.stylmark.com.