Cooper Lighting, an industry leader committed to delivering innovative products and driving transformational technology in the lighting industry, announces that six products have been recognized for ingenuity in Architectural Products 2011 Product Innovation Awards (PIA). Honored with the most company awards in the interior, exterior and controls lighting categories, Cooper Lighting received four product awards and Cooper Controls, a business unit of Cooper Lighting, was honored with two awards.
The inaugural Architectural Products PIA competition is designed to give recognition of product ingenuity in the built environment. By identifying the most innovative products in 18 major categories, the competition hopes to bring awareness to specifiers dealing with diverse components when designing a building. The judges included 42 top industry experts in their fields.
The winning products include the following architectural solutions:
•Cooper Lighting's Ametrix Arrowlinear LED Luminaires provide a smooth gradient of asymmetric illumination, free from striations and hot spots, for vertical and horizontal architectural surfaces.
•Cooper Lighting's Neo-Ray Straight and Narrow Series 22 LED Luminaires create slender lines of continuous, uniform illumination for recessed, suspended, surface- and wall-mounted applications.
•Cooper Lighting's RSA Continuous Channel system creates a single, streamlined channel for all ceiling-based lighting and utilities, including the integration of fire suppression, HVAC events, sensors and securities.
•Cooper Lighting's io® Koi Series integrates a variety of different io luminaires to create elegant wood bollards available in a variety of styles, sizes and finishes.
•Cooper Controls NeoSwitch Wall Switch Occupancy Sensor packs multiple functions into a single wall switch, including motion and daylight sensing, and provides an EcoMeter indicator light to reinforce energy-saving behavior.
•Cooper Controls Venergy Advanced Metering System, which is a code-compliant energy-saving solution that monitors energy consumption while being easy to use, specify and scalable across any enterprise.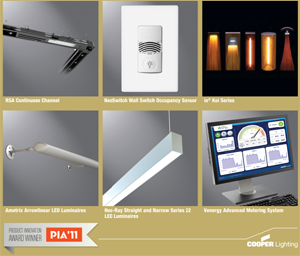 "We are honored that so many of our architectural lighting products and control solutions are being recognized for ingenuity by such a prestigious panel of judges," said Mark Eubanks, President, Cooper Lighting. "Our continued commitment to providing industry-leading solutions gives specifiers unique, high-performing products to satisfy demanding market needs."
Cooper Lighting has made a significant investment in people, resources and technology to ensure the company provides first-class solutions to its customers' lighting challenges. The Company offers a range of indoor and outdoor LED lighting products and controls, all of which are specifically designed to maximize energy and cost savings. For additional information on Cooper's LED product offering, click here, or for information on Cooper Controls solutions, click here.
About Cooper Lighting
Cooper Lighting, a subsidiary of Cooper Industries plc (NYSE: CBE), is the leading provider of world-class lighting fixtures and controls to commercial, industrial, retail, institutional, residential and utility markets. As lighting technologies have advanced over the years, Cooper Lighting has been at the forefront of the industry in helping businesses and communities leverage the latest technologies to improve efficiency, reduce costs and enrich the quality of the environment. For more information, visit www.cooperlighting.com.
About Cooper Controls
Cooper Controls, a business unit of Cooper Lighting, is a market leader in energy management, architectural, and entertainment lighting controls. A subsidiary of global manufacturer Cooper Industries plc (NYSE: CBE), it was formed by its acquisition of Novitas Inc. in November 2005, Polaron plc in March 2007, PCI Lighting Control Systems in August 2007, and ALC Lighting Controls in November 2010. Cooper Controls includes leading brands such as iLight (International), iLumin (North America), Greengate, and Zero 88. For more information, visit www.coopercontrol.com