Power management company Eaton, a 2016 ENERGY STAR® Partner of the Year, today announced that the Illuminating Engineering Society (IES) Progress Committee has recognized seven of its light-emitting diode (LED) luminaires, controls and connected lighting systems for inclusion in the 2016 IES Progress Report. The Report showcases products that provide significant technical advancement in the art and science of lighting over the last year. In the last decade, Eaton has had 78 products and applications accepted in the Report.

"The prestigious Progress Report provides customers with the industry's most innovative and technically advanced solutions for a broad range of markets and applications," said Kraig Kasler, president, Eaton's Lighting Division. "It represents both the trajectory and the velocity of change that continue to advance the lighting industry. Eaton is proud that our products are being recognized for uniqueness, innovation and significance to the lighting industry."

The products submitted for evaluation in the Progress Report undergo a critical assessment process and are judged based on their unique qualities, visual and optical performance, efficiency, innovative features and overall significance to the lighting industry. Eaton's seven recognized products include lighting solutions designed for commercial, industrial, institutional, sports and outdoor environments.

Eaton's 2016 accepted products include:
Indoor LED Luminaires
Portfolio Dim-to-Warm (D2W™) LED Recessed Downlight
Neo-Ray Define LED Recessed Luminaire
Ametrix ASYX™ 2.0 LED Asymmetric Luminaires

Outdoor LED Luminaires
Invue™ Arbor Post Top Luminaire
Ephesus™ All Field LED Sports Luminaire

Controls and Connected Lighting Systems
Wireless Connected Lighting System (WCL)
Distributed Low-Voltage Power System (DLVP)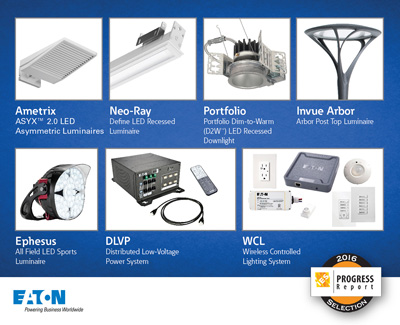 The IES Progress Committee is mandated to keep in touch with developments in the art and science of lighting throughout the world and provides a yearly review of achievements that demonstrate progress in the industry. The Progress Report includes important new products, research, publications and design tools.

The 2016 IES Progress Report was presented at the IES Annual Conference held in Orlando, Florida, on October 23 to 25, 2016 and will continue to be presented at local IES section meetings throughout the coming year. A summary of the Report will be published in the January 2017 issue of Lighting Design + Application (LD+A) and posted on the IES website.

To learn more on Eaton's lighting solutions, visit www.eaton.com/lighting.

Eaton delivers a range of innovative and reliable indoor and outdoor lighting solutions, as well as controls products specifically designed to maximize performance, energy efficiency and cost savings. Eaton lighting solutions serve customers in the commercial, industrial, retail, institutional, residential, utility and other markets.

Eaton's electrical business is a global leader with expertise in power distribution and circuit protection; backup power protection; control and automation; lighting and security; structural solutions and wiring devices; solutions for harsh and hazardous environments; and engineering services. Eaton is positioned through its global solutions to answer today's most critical electrical power management challenges.

Eaton is a power management company with 2015 sales of $20.9 billion. Eaton provides energy-efficient solutions that help our customers effectively manage electrical, hydraulic and mechanical power more efficiently, safely and sustainably. Eaton has approximately 95,000 employees and sells products to customers in more than 175 countries. For more information, visit www.eaton.com.