When the production team of HBO's Boardwalk Empire television series needed to replicate vintage luminaires and lampposts from the 1920's Atlantic City boardwalk, they turned to Sentry Electric for the answers. As one of North America's oldest and most knowledgeable manufacturers of outdoor lighting, Sentry's unique capabilities in the area of customization and design helped produce award winning results.
The Process
In April, 2009, the set decorator for Boardwalk Empire reached out to Sentry Electric. The show was going into production, and finished custom products were required on set within ten weeks. Sentry quickly responded with various design proposals that had to be reviewed and approved by Boardwalk Empire's production team. Since original drawings are no longer available, vintage photos of the actual boardwalk were used to develop the design concepts. Upon final approval, Sentry's engineering and manufacturing teams swung into action. Raw materials and components were ordered. Machining, welding, painting, and assembly operations ensued. And by mid-June, Boardwalk Empire received new street lamps that provided an authentic replication of one of New Jersey's most famous landmark destinations.
The Original Lamppost
The original lamppost was a stunning work of early 20th century artistry and craftsmanship. A cast iron base and shaft were adorned with flutes, scroll-work and decorative, tapered transition pieces. It stood approximately 20' tall with a large round globe at the top. A third of the way down from the top, a 4-way cross arm with smaller globes extended outward. Each cross arm has a distinctive finial on top with s-shaped scroll work underneath. The frosted glass globes, when illuminated, hung like clouds over the nighttime boardwalk landscape.
Sentry's Replica Product
The development of the boardwalk lamppost presented challenges for Sentry's design team, as a stringent ten-week deadline was imposed. There was no time to design and tool for brand new components. Sentry Electric creatively utilized existing components such as pole bases, pole shafts, collars, cross arms, luminaire bases, globes, etc. From top to bottom, the replica lamppost assembly measures 18 feet, which allows it to be suitably scaled for Boardwalk Empire's production set. The lower portion consists of a 6" diameter fluted aluminum shaft with decorative Sentry Electric clamp-on base. The upper portion consists of a 5" diameter shaft with attachment points for the four bracket arms and a tenon for the upper luminaire assembly. Each luminaire is outfitted with a standard medium base socket, which gives Boardwalk Empire's lighting designers many options for lamp type, light levels, color temperature, and lighting control.
The Result
In Boardwalk Empire's first season, among many other notable achievements, it received the Emmy Award for Outstanding Special Visual Affects for a Series. President Shepard Kay can't be proud enough of his company's quick response performance and the stunning results. Says Kay, "When Boardwalk Empire presented us with this opportunity, our entire organization embraced the challenge of completing this project on time, on budget, and within rigid design parameters. Customization is a hallmark of Sentry Electric. There's probably not another manufacturer in the U.S. that could have responded with an entire lamppost and luminaire solution in such a short amount of time."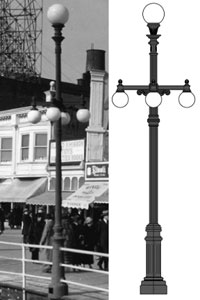 Sentry Electric's reproduction of the original Atlantic City boardwalk lamppost is a stunning replica of the original design, seen here in an undated photo from the 1920s era.
About Sentry Electric:
Sentry Electric is North America's most responsive source of standard and custom, historically styled, exterior lighting, completely committed to end-to-end project success. The company's specification grade cast iron and aluminum luminaires/lamps, bollards, poles, brackets and accessories are installed across America's prestigious municipal street, park and university settings, including deployments at Yale University, Battery Park City in lower Manhattan, Indianapolis' Lower Canal Park, UCLA and Ellis Island. Lighting designers and engineers, architects and urban planners all rely on the company's commitment to end-to-end project success and its unparalleled knowledge of architecturally significant exterior lighting, honed over the past sixty years.
Sentry's reputation for solid construction, its longevity in business and its custom design capabilities unquestionably made the company the right choice for outdoor luminaires for the recently rebuilt Yankee Stadium. The distinctive, elegant Riverside luminaire with a robust, durable cast iron pole are both standards now at the new "House That Ruth Built." www.SentryLighting.com/ProjectGallery.asp
Sentry has produced award-winning outdoor lighting products, including the exclusive SCP Central Park tulip luminaire, the winner of a Central Park Conservancy design competition. Its rugged, cast aluminum structure meets New York City's vandal resistance specifications. Sentry's catalog includes a range of luminaires in a variety of styles that incorporate many different light sources, including LED, high intensity discharge (HID), compact fluorescent, induction and incandescent, for high efficiency, photometric performance, service life and energy use. www.sentrylighting.com