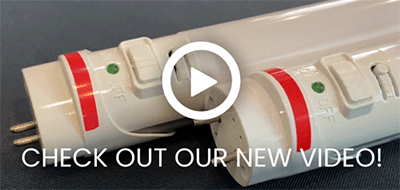 We all know that proper lighting is important. You need enough light to see what you are doing and to maintain safety. But what about your lighting and safety when there is a power outage?

Aleddra's 4th Generation Self-Diagnosis Emergency Tube is 2-in-1 tube that can be used both as a regular LED tube PLUS an emergency tube. During normal operations this energy-efficient LED tube can be turned on/off via a wall switch. During a power outage the Gen4, automatically switches to the internal lithium battery for 90+ minutes at 420 lumens. Every (30) days the Gen4 will automatically self-test for (30) seconds and annually it will self-test for (90) minutes meeting the emergency lighting audit requirements. This feature saves approx. 95% of the labor costs to perform these required audits.



Key Features of the Gen4 Emergency Tubes:

-2-in-1 LED Tube: Both a Regular LED tube as well as an Emergency LED tube.

-Automatically Self-Tests: (30) second monthly and (90) minute annually

-Self-Diagnostics : The LED indicator light will flash slowly when the tube is in the test mode and rapidly if the battery is out of specification.

-Manual Test Button: Allows the end user to perform a manual (30) second test.

-Battery Shutoff Switch: Extends shelf life.

-Emergency Mode: (90) + minutes at 420 lumens.

Check out our new video to learn more about the Aleddra Emergency T8 and T5!

For Emergency Lighting Product Gallery, please visit: www.aleddra.com/emergency-lighting

If you and your team members would like to learn more about all the Aleddra LED Emergency products, please email [email protected] or contact us at (425) 430-4555.