A new series of durable12-volt well lights with adjustable tilting lamps is now available from Orbit/Evergreen, a leading supplier of landscape lighting fixtures and accessories. Well lights are typically placed in a landscape design to illuminate trees, fountains, arbors or other garden features.
The new Orbit/Evergreen FG Series features five models with varied cover styles to direct the light source, including full view, louvered, round hood, square hood or a vandal-resistant criss-cross cover.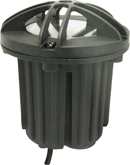 Each fixture measures 4 ¾" wide and has a 4 ½" depth. Models are available in black or bronze and are constructed from injection-molded PBT composite for longer-lasting outdoor performance. A new adjustable lamp bracket allows the user to tilt the lamp + 25° for direct illumination of the garden subject. FG fixtures also include a 20-watt MR16 lamp.
Orbit/Evergreen offers more than 100 versatile landscape lighting fixtures for all residential and commercial applications. The product line-up includes: up and accent lights, path lights, step lights, underwater lights, ground and well lights, in addition to pendants and bollards. Fixtures are offered in a variety of architectural colors and finishes, such as stainless steel, composite, fiberglass, brass and copper.
The Orbit/Evergreen Landscape Lighting Catalog is available free to industry professionals by contacting Orbit via email at [email protected] or by fax at 213-745-2015.
Orbit Industries is based in Los Angeles, CA, and is a leading manufacturer of electrical products for the professional contractor. For more information about Orbit/Evergreen, visit the Web site at www.orbitelectric.com or call 800-906-7248.