Cooper Lighting, a division of Cooper Industries plc (NYSE: CBE), has announced that its Halo brand of recessed and track lighting has been named by Remodeling magazine as the Brand Leader in Lighting. Sweeping all four categories, Halo was notably chosen in the lighting categories of Brand Familiarity, Brands Used in Past Two Years, Brands Used Most, and Brands Used in Past Two Years and/or Would Consider Using in the Future.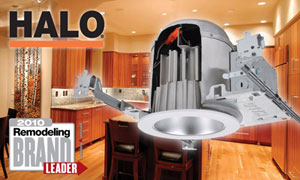 "We are honored that remodeling professionals have chosen Halo as their most highly preferred brand in the latest Remodeling magazine survey," said Mark Eubanks, Vice President and General Manager at Cooper Lighting. "Our continued commitment to innovation, quality and value has helped us form a strong bond with professional contractors over the past 50+ years. Going forward, we remain dedicated to bringing the best selection in energy-efficient lighting to the building and remodeling industries. Our ongoing initiatives to introduce new ENERGY STAR® qualified Halo products helps us continue to achieve that goal."
The Remodeling 2010 Brand Use Study was conducted by Readex Research, an independent research company, and serves to pinpoint the brands Remodeling magazine recipients know best and the ones they use or are willing to use. The survey results clearly reinforced and solidified Halo's position as the most preferred choice in the lighting category. For example:
• When asked what brands they had used in the past two years, Halo was named by 74% of respondents. The next brand chosen was named by only 35% of respondents.
• When asked what brand they use the most, 40% of respondents chose Halo. The second brand named was selected by just 12%.
• Seventy-eight percent of the respondents have used Halo brand products in the last two years, or would consider using the brand in the future.
• Brand familiarity for the Halo brand came in at 83%.
Halo brand equity and user preference was further reinforced earlier this year when Halo was chosen as the Brand Leader by Builder magazine subscribers for the eleventh consecutive year. The Halo brand swept all four lighting categories, including Brand Familiarity, Brand Quality, Brand Used in Past Two Years and Brand Used Most.
For additional information, visit www.cooperlighting.com.
About Cooper Lighting
Cooper Lighting, a subsidiary of Cooper Industries plc (NYSE: CBE), is the leading provider of innovative, high quality interior and exterior lighting fixtures and related products to worldwide commercial, industrial, retail, institutional, residential and utility markets. As lighting technologies have advanced over the years, Cooper Lighting has been at the forefront of the industry in helping businesses and communities leverage the latest technologies to improve efficiency, reduce costs and enrich the quality of the environment. For more information, visit www.cooperlighting.com.