The Whiz 2.0 is Meteor Lighting's latest Architectural High Bay that supersedes the Whiz, a flagship product of the company that has been specified in over 1000 projects to date. Having been in the R&D development plan for over seven years, the Whiz 2.0 is sleeker, compact and more architectural than any other High Bay offering of its type in the market.
In terms of performance, the Whiz 2.0 is able to provide up to 35,400 lumens to illuminate spaces with high ceilings from mounting heights of 30ft and above, as well as having uplight versatility for indoor applications. This distinctive architectural solution is perfect for commercial interiors with high open ceiling, including; atriums, lobbies, auto dealership showrooms, convention centers, retail stores, restaurants, and airport terminals.
With an IP65 weatherproof design, the Whiz 2.0 is suitable for exterior entrances of office buildings, hotels, condos & apartments, movie theaters, airport departure areas, canopies, and shopping centers. A Natatorium rating option is also available for aquatic environments.
The Whiz 2.0 boasts a fixture rated life of > 60,000 hours giving you 50% energy savings and is both ETL and DLC Listed. It is made with Aluminum LM6 material which exhibits excellent resistance to corrosion, thermal conductivity as well as being lightweight, weighing in at 10.8 lbs.
The precision die-cast aluminum housing with integral fin design is also a unique feature of the Whiz 2.0, providing 20% more heat dissipation for advanced thermal management and long service life.
Whiz 2.0 will soon be compatible with our patented Colorflip Flip-chip technology. This is a revolutionary implementation in High Bay fixtures which can provide higher efficiency of up to 105 lm/w and at just 20% of the cost. The expected availability of the Tunable White option is in May - Lightfair 2019.
-Lumen packages available up to 35,400 lm
-Beam angles of 30°, 60°, 80°, 100°
-Color Rendering Index of 75 and 85 CRI
-Color temperatures of 3000K, 4000K and 5000K with Tunable White Option of 2700 – 6500K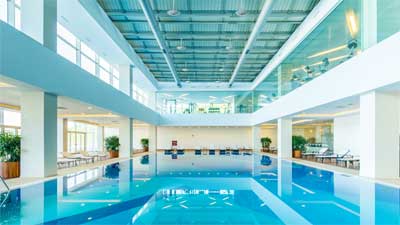 To find out more about Meteor Lighting's Whiz 2.0, please visit MeteorLighting.com or contact Hanson at [email protected].
Media Kit Images available for Download: https://goo.gl/1RF6xx
About Meteor Lighting: Meteor Lighting creates advanced, innovative luminaires focused on high ceiling applications for designers and architects that want performance, small form factor and aesthetics; to illuminate their most beautiful spaces. Based in City of Industry, CA, Meteor has consistently produce award winning luminaires recognized by industry experts and continue to create powerful yet sleek fixtures to offer Advanced High Ceiling solutions.