Introducing PruCove, the ideal partner to our MicroCove. MicroCove is our powerhouse asymmetric now up to 1500 lumens per foot, while PruCove is designed for today's smaller coves and offers two distributions, a softer 'focal glow' and a tighter ceiling graze with our Remote optic.
Create beautiful 'Floating Ceilings' with PruCove (PCI)— wonderfully smooth gradients hiding the wall-ceiling joint, regardless of cove size. Our PruCove Grazer provides hidden wall grazing from a cove for a fully adjustable grazer that isn't visible from below. Armstrong's Axiom compatible.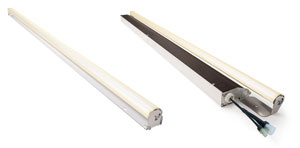 PruCove and MicroCove together provide a robust cove offering… when looking for asymmetric illumination, bookmark PRULITE.COM.
Please visit our showrooms in New York and LA or ask for a sample.
Manufacturing in Los Angeles since 1955, Prudential Lighting continues to create a wide range of fixtures, from elegant pendants to performance optical luminaires, while collaborating with designers in realizing their visions for architectural lighting environments.
Light creates life. Create with Prudential Ltg.