Peerless - a leading designer and manufacturer of architectural luminaires and one of the innovative lighting companies under the Acuity Brands, Inc. (NYSE: AYI) umbrella - announces the release of Vellum linear suspended LED luminaires.
The product is well suited for use in commercial offices, retail spaces, academic institutions, as well as hospitality and healthcare settings.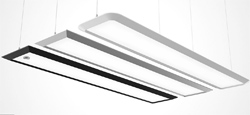 With a discreet, low-profile form and edge-lit lens, Vellum luminaires deliver on the promise of LED lighting by combining simple, yet sophisticated design with energy-saving efficiency. Vellum luminaires provide flicker-free, glare-free and worry-free illumination from a Peerless 360° total system solution that integrates lighting, controls and technologies all manufactured, supported and warrantied by Acuity Brands.
Though just officially released, Vellum luminaires have already been recognized with a 2014 Product Innovation Award from Architectural SSL.
"Vellum has been touted as one of the few luminaires to hit the market that fully leverages LED technology to provide both a unique new aesthetic and practical operational efficiency," says Peerless Value Stream Manager Jennifer Butler. "This was exactly our aim."
"What's more," Butler continues, "we've been pleased to receive positive feedback about the exceptional visual experience Vellum provides with smooth, flicker-free dimming to black, glare-free direct lighting and broad, uniform indirect illumination across the ceiling."
Delivering up to 92 lm/W, as low as 0.51 W/ft2 in typical application and 50,000 hours of illumination to L80, Vellum luminaires feature remote-mounted eldoLED® digital drivers that provide architectural quality dimming to black (0.1%) with no flicker and an optional, embedded nLight® sensor for daylight dimming and/or occupancy detection control.
Vellum can also be specified with nLight® modules to further boost efficiency. The modules can provide network controls connectivity, energy-saving digital lumen management or both. An optional built-in nLight module allows for easy Cat-5 "plug-and-play" connectivity with nLight control and sensor systems. The digital lumen management option prevents the need to initially over-light spaces by providing constant lumen output that extends LED longevity and saves roughly 10 percent in energy use over the course of the luminaire's lifetime.
To promote visual well-being and help keep eyes thriving, Vellum luminaires feature high-performance lenses, film and reflectors to control and distribute light output following Softshine® optical engineering standards. In typical applications, Vellum luminaires meet or exceed the guidelines set forth in the Illuminating Engineering Society's (IES) Recommend Practice for Office Lighting (RP-1).
Vellum luminaires are available with indirect/direct distributions of 60/40 or 20/80 as well as with 100 percent direct illumination. Nominal delivered-lumen options are 3500 and 4300 lumens. Color temperature options are 3000K, 3500K and 4000K. Color consistency is achieved by an 80+ CRI rating.
Vellum luminaires are IES LM-79 tested, CSA/CUS listed, FCC certified and feature Lighting Facts® labels issued by the U.S. Department of Energy.
All Peerless luminaires, including Vellum, are available nationally through Acuity Brands sales representatives and authorized distributors. For additional information, please visit the Acuity Brands and Peerless websites.
About Peerless
Peerless makes Lighting for People® and the places we all inhabit – offices, classrooms, libraries, retail centers, transportation terminals, convention halls and other public spaces. Since our founding in 1892, the Peerless name has been synonymous with extraordinary illumination. Peerless LED and fluorescent architectural luminaires are among the most advanced in the indoor commercial marketplace delivering leading-edge modern design, superior optical engineering and energy-efficient performance. Peerless is located in Berkeley, CA, and is a business unit of Acuity Brands, Inc.
About Acuity Brands
Acuity Brands, Inc. is a North American market leader and one of the world's leading providers of lighting solutions for both indoor and outdoor applications. With fiscal year 2013 net sales of over $2 billion, Acuity Brands employs approximately 6,500 associates and is headquartered in Atlanta, Georgia with operations throughout North America, and in Europe and Asia. The Company's lighting solutions are sold under various brands, including Lithonia Lighting®, Holophane®, Peerless®, Gotham®, Mark Architectural Lighting™, Winona® Lighting, Healthcare Lighting®, Hydrel®, American Electric Lighting®, Carandini®, Antique Street Lamps™, Sunoptics®, Axion™ Controls, Sensor Switch®, Lighting Control & Design™, Synergy® Lighting Controls, Pathway Connectivity™, Dark to Light®, ROAM®, RELOC® Wiring Solutions, Acculamp® and eldoLED®.