PMC proudly announces the new ArcX Collection of reimagined linear lighting. A new dimension of lighting, the ArcX Collection combines shape and style with versatility and efficiency. ArcX modules allow construction of a wide variety of system contours and shapes making each lighting application truly unique.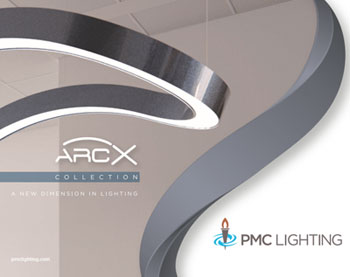 Curved on the horizontal plane, the original ArcX takes custom design to a new level, allowing you to specify the shape and contour of a system of lighting to match the environment. Available in suspended, recessed and surface mount models with direct, indirect or direct/indirect distributions, ArcX provides the means by which you can specify a truly signature look. Lumen output and color temperature choices make ArcX not just a decorative accent for your lighting design, but truly functional lighting that you can rely on to effectively light your space.
Expanding on the versatility of the original collection, ArcX2 offers the lighting designer the ability to design with fixtures curved on the vertical plane with light output from the convex or concave fixture surface. Offered in suspended mounting styles for direct or indirect light distribution applications, ArcX2 takes the design possibilities of ArcX and turns them on their side. By orienting ArcX2 on its side light may be directed left or right in addition to up or down.
While the design concept of ArcX and ArcX2 centers on versatility and full customization to meet exacting needs, PMC Lighting's ArcX BloX program takes specially selected sizes of both ArcX and ArcX2 and "standardizes" them to provide a selection of versatile modules that may be combined together to make semi-custom designs for a wide range of applications. With the same great features of ArcX and ArcX2 packed into specific radii and angles (along with linear sections) it is possible to build an almost limitless array of semi-custom layouts from quick-ship stocked components without the longer lead times required by fully custom versions. Consider these to be "building BloX" that can be combined in ways only limited by the imagination.
Combining the ArcX horizontally curved pieces with the new ArcX2 vertically curved pieces, PMC created the ArcX3D, LED lighting that takes on a whole new dimension. LED lighting is now spatial, flowing through an available space in any direction on horizontal and vertical planes. With ArcX3D lighting can flow through the contours of a space without planar restrictions. Multi-level curved, sculptural lighting can be assembled to create a one-of-a-kind showpiece.
Made in the USA, PMC provides a truly signature lighting experience with precision design, manufacturing, drawings and communication throughout the construction process. Fixtures are cETLus listed for Damp Location, and have standard dimming LED drivers. Each fixture is tested at the factory before shipment.
About PMC Lighting (www.pmclighting.com)
Founded in 1991, PMC Lighting is a family owned and operated manufacturer of quality lighting fixtures. Located in Warwick, Rhode Island, PMC is centrally located on the eastern sea-board, nestled between New York City and Boston. This affords PMC the opportunity to capitalize on technological advancements as well as superior design and engineering influences from this area while maintaining a small town work ethic, experience and pride.
For further information, please contact Natalie Young at Performance Marketing, [email protected]