A new versatile PL lamp, called PL Convertible (PLC), from Aleddra has been recognized by the IES Progress Report Committee (PRC) as unique and significant advancement to the art and science of lighting at the IES 2019 Annual Conference. The PLC comes with the following features:
-90-degree adjustable light head: this feature enables the lamp to be mounted either horizontally or vertically while still shining downward, providing a higher effective foot-candle on the surface to be lit. The PLC lamp eliminates the need to stock two SKUs, one for horizontal mounting and one for vertical mounting.
-Extendable arm: when mounted horizontally, it allows the user to position the lamp head in the center of the downlight.
-Rotatable base: the rotatable base enables the user to adjust the lamp to face the direction of their choice.
-Dual-mode: two UL certificates, one for operating with ballast (Type A) and the other for ballast-bypass operation (Type B). This flexibility makes it easier to convert the existing PL lamp to the Aleddra PLC lamp.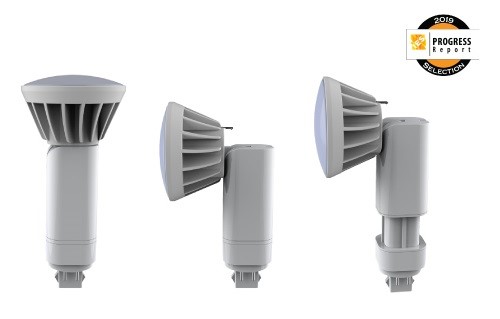 Demo Video | Download cutsheet
The PLC lamp comes with 5-year warranty and DLC listed, and qualifies for utilities rebate. The PLC lamp like all Aleddra LED products can be order from your Aleddra distributors. For more information, please email us at [email protected] or call us at 425-430-4555.