Eureka (www.eurekalighting.com), an established leader in deco-performance lighting solutions, today announced the launch of its Outline family of luminaires. Outline is a range of modern luminaires with three different mounting types and a wide variety of head number and arrangement options.
Outline brings a modern aesthetic to a broad family of luminaires, giving lighting designers a design language that translates to a wide range of spaces. In offices, Outline can be used in different ways to accentuate modern work environments while maintaining a commonality of design purpose. The family can craft ambience in hospitality environments like dining, bar and transitional areas in restaurants or hotels. And, in retail spaces Outline delivers a modern look to high-end establishments, with precise aimability to illuminate displays and quality ambient lighting of merchandise.
With recessed, surface and suspended mounting iterations, Outline enables a design theme to be carried anywhere throughout a project. And, with various head number and arrangement options the aesthetic can be maintained in almost any space.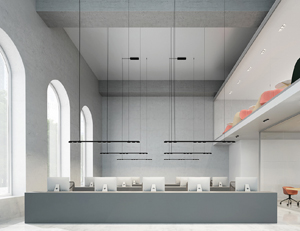 Challenging traditional notions of projector-type lighting design, Outline's innovative optics represent a leap in lens design. Advanced optics, featuring lenticular groves of a unique TIR lens, create a more uniform and effective light beam enabling quality illumination with a smooth cut-off.
Outline can be aimable or fixed "point and shoot", providing a powerful spot or high-quality ambient light. And, heads can be rotated. Recessed version heads rotate on magnetic ball joints that keep the head centered in the housing, preserving symmetry while snapping back to horizontal. Projectors on surface and suspended versions pivot smoothly and hold their position with a friction hinge.
An optional uplight on suspended version can greatly improve overall lighting effect.
Feature summary:
- Unique TIR lens with lenticular grooves for softly blended uniform light
- 30 degree beam angle
- Up to 1,250 lumens per head
- Recessed, surface and suspended mounting types
- Trim or trimless versions for recessed type
- Optional uplight for suspended type
- 54" or 78" lengths for suspended type, with multiple configurations for head positioning, with 358 degree rotation and 70 degree pivot
- One, two or three aimable heads on trim or trimless recessed version, with 360+ degree rotation and 40 degree tilt
- One, two or three aimable heads on surface mount type, with 358 degree rotation and 70 degree tilt
- Offered in black or white finish for trim, projector and enclosure
- Integrated driver in recessed type
More information about Outline and other Eureka products is available at the Eureka website.
About Eureka
Since 1987, Eureka, an Acuity Brands company, has been working relentlessly to enhance the environment of the end user with compelling lighting solutions. Our passion for designing and manufacturing best-in-class, distinctive, specification grade decorative luminaires enables lighting designers, designers and architects to transform their concepts into reality. Our multi-award-winning contemporary lighting products are available throughout North America. More information about Eureka is available at www.eurekalighting.com.