In order to measure luminous flux (lumens), color and spectral distribution of large area solid state and traditional type light sources a large diameter integrating sphere is commonly used.
The ISD-100HF-V01 39 inch / 1000 mm diameter integrating sphere is coated with GO's ODP97 white diffuse barium sulfate coating. A bayonet mount on the detection port permits attachment of the BTS256-LED tester.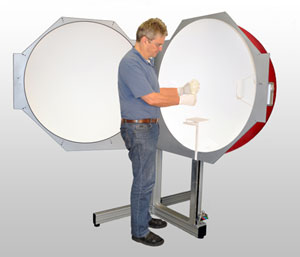 The sphere is designed for 4pi geometry measurements of omnidirectional light sources. The hinge frame stand allows one hemisphere to open/close for mounting of the test LED or lamp source in the center of the sphere.
The height adjustable UMSH-AP500 all-purpose telescoping sample holder supports positioning and electrical connection of the test light source in the sphere center.
An auxiliary port located at the bottom of the sphere enables handling test sources with non-standard cables and connections. A port plug is available to cover this port when not in use.
To compensate for any substitution correction and self-absorption errors caused by a different size port aperture or the test source placed inside the sphere a 100W auxiliary lamp is included. The PC operated LED tester and auxiliary lamp correction function are all under control of the supplied G.O.O.S. software. The optional BTS256-LED-ALP power supply is available for use with any Gigahertz-Optik integrating sphere. It provides stable operation of the quartz halogen auxiliary lamp plus offers a trigger input for remote on/off control of the BTS256-LED tester. The power supply (110/230V 50/60Hz) can be manually set to the auxiliary lamp specifications in use.
Full light and LED measurement systems can be assembled from Gigahertz-Optik integrating spheres, light analyzers, optometers, detectors, standard reference lamps, power supplies and components.