Officials at Okemos Public Schools in Okemos, Michigan, needed to update the parking lot at Chippewa Middle School with goals of improving safety and traffic flow in the lot, reducing energy usage, and upgrading the performance of the outdoor lighting system. With input from middle school staff, a renovation plan was devised and Okemos Public Schools selected LED lighting from Cooper Lighting, a division of Cooper Industries plc (NYSE: CBE), for the parking lot upgrade.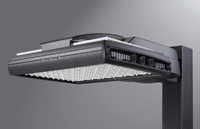 Okemos Public Schools, working with consulting engineering firm Clark Trombley Randers (CTR) and local Cooper Lighting representative Crites, Tidey & Associates, Inc., chose the McGraw-Edison Ventus™ LED Area Luminaire to improve lighting coverage and levels, thereby enhancing safety in the parking lot. By replacing 40-year-old mercury vapor cobrahead fixtures, the use of the new efficient LED lighting will also reduce energy usage and electrical costs for the Okemos school district, with a projected savings of 25 to 30 percent–an important savings for a school district operating under reduced funding, like so many today.

"At our schools, safety is the top priority, and in order to have a safe parking lot, superior lighting coverage is necessary," said Steve Lathrop, Director of Operations, Okemos Public Schools. "With Cooper's LED lighting system, we are meeting our safety goals and seeing long-term cost savings." Lathrop also notes that the reduced energy consumption results in positive environmental benefits that supports the school district's continued goals, as well.

The Ventus LED Area Luminaire provides superior optical performance and versatility for area and roadway applications. With patent-pending modular LightBAR™ technology, the LED lighting is able to deliver application-specific uniform illumination to the parking lot at Chippewa Middle School.

"We are pleased that Okemos Public Schools recognized the many advantages of our LED lighting products," said Mark Eubanks, President at Cooper Lighting. "The improved performance of the McGraw-Edison Ventus LED fixture allowed the school to meet its energy goals while improving child safety and the lighting performance."

For additional information, visit www.cooperlighting.com/led.

About Cooper Lighting
Cooper Lighting, a subsidiary of Cooper Industries plc (NYSE: CBE), is the leading provider of innovative, high quality interior and exterior lighting fixtures and related products to worldwide commercial, industrial, retail, institutional, residential and utility markets. As lighting technologies have advanced over the years, Cooper Lighting has been at the forefront of the industry in helping businesses and communities leverage the latest technologies to improve efficiency, reduce costs and enrich the quality of the environment. For more information, visit www.cooperlighting.com.