Nora Lighting was a featured supplier of LED downlights for the 2017 St. Jude Dream Home in Las Vegas. The Dream Home Giveaway raised more than $850,000.00 in ticket sales for St. Jude Children's Research Hospital. St. Jude is headquartered in Memphis, Tennessee, and has eight clinics throughout the U.S. Proceeds from the Dream Home ticket sales support St. Jude research and treatment of childhood cancer and other life-threatening diseases.
The random drawing for the Dream Home was held on October 11, 2017, and the award-winning ticket was held by Pam and Steve Grzebski of Henderson, Nevada. The Dream Home home was constructed by Element Building Company of Las Vegas and features more than 2,800 square feet with three bedrooms, 2.5 baths and dramatic living areas with 30 foot glass doors.
"It has been exceptionally rewarding for Nora to participate in the Dream Home project," said Jilla Farzan, executive vice president at Nora Lighting. "St. Jude has a unique mission and for more than 50 years has given hope to the families of thousands of children with life-threatening diseases. "Ground breaking research has helped push the survival rate for childhood cancer from less than 20 percent in 1962 to more than 80 percent today", she said.
Nora donated more than 120 Onyx Series LED downlights, which were installed throughout the Dream Home. The low profile Onyx has minimal aperture brightness and blends within ceilings. It produces even illumination without an LED diode image and features deep-set optics for visual comfort. All models have high 90+ CRI and 2700K, 3000K and 4000K color temperatures. Onyx is available with a white finish in a soft edge baffle to match other baffles and a smooth reflector. The Dream Home Giveaway has become the largest national fundraiser for St Jude Children's Research Hospital. More than 425 Dream Homes have been awarded over the last 26 years, and the program has raised over $350 million.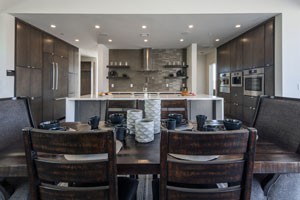 Nora Lighting is an industry leader in the introduction of energy-saving fixtures for commercial, residential, hospitality, healthcare and other applications. The company offers a full-line of LED products, including: LED retrofit and new construction downlights; LED track and rail fixtures; LED center basket troffers; LED puck lights; LED Hy-Brite, Standard, Side-Lit, CCT (color correlated), High-Output and RGB and RGBW tape lights; LED pendants; LED under cabinet fixtures: LED step and brick lights; and LED emergency/exit signs.
Along with LED fixtures, Nora manufactures incandescent, fluorescent and HID sources in track and rail systems, recessed lighting, multiple lighting systems, under cabinet and an expanding series of accent lights, including pendants and sconces. www.noralighting.com.