Power management company Eaton today announced that its Cooper Lighting division has introduced Metalux SkyRidge™ luminaires. Featuring patented WaveStream™ light-emitting diode (LED) technology, the high-efficiency fixtures offer customers a stylish, affordable alternative to fluorescent fixtures. They provide superior optical control, resulting in maximum energy savings and design flexibility for ambient applications.

"Our new WaveStream LED technology enables large-scale adoption of LEDs as an alternative to the typical fluorescent troffer-type choices found in commercial spaces," said Mark Eubanks, president, Eaton's Cooper Lighting division. "With SkyRidge luminaires, we are able to offer customers a distinct and unique blend of technology and aesthetics at a price point equal to or better than many equivalent fluorescent options."

WaveStream LED technology transforms the LED point source into an elegant luminous plane. A patented optical system maximizes the amount of light injected into the WaveStream panel, dramatically improving luminaire efficiency. Laser-precise, patented AccuAim™ optics arranged in exacting patterns provide unparalleled brightness control while delivering distributions to each fixture and application.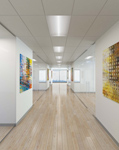 The Metalux SkyRidge high efficacy luminaires provide up to 109 lumens per watt (lm/W), offering energy savings of more than 50 percent compared to traditional fluorescent troffer-type products. The series is available in 2 feet by 2 feet and 2 feet by 4 feet configurations with 3000 Kelvin (K), 3500K and 4000K Correlated Color Temperatures (CCT) choices at a typical 85 Color Rendering Index (CRI). The contemporary-looking fixtures feature a choice of two unique reflector choices (curved or rectilinear/straight) and are compatible with all of today's popular ceiling systems. The fixtures are available in four standard lumen packages, including 2,000; 2,900; 3,900 and 4,800 based on the configuration, with four additional made-to-order packages. Fixtures have a five-year warranty and retain a high lumen output at 60,000 hours.

The SkyRidge luminaires are equipped with a zero to 10 volt standard dimming driver for control with wall dimmers from Eaton's Cooper Wiring Devices business and occupancy and/or daylight sensors, lighting control panels and Greengate Room Controllers from Eaton's Cooper Lighting Controls business. A Fifth Light™ Digital Addressable Lighting Interface (DALI) driver option is available for complete digital energy management using the scalable Fifth Light controllers and software.

To learn more about the Metalux SkyRidge Series and WaveStream LED technology available from Eaton's Cooper Lighting business, please visit www.cooperlighting.com.

Eaton's Cooper Lighting division delivers a range of innovative and reliable indoor and outdoor lighting solutions, as well as controls products specifically designed to maximize performance, energy efficiency and cost savings. The Lighting business serves customers in the commercial, industrial, retail, institutional, residential, utility and other markets.

Eaton's Electrical Sector is a global leader with expertise in power distribution and circuit protection; backup power protection; control and automation; lighting and security; structural solutions and wiring devices; solutions for harsh and hazardous environments; and engineering services. Eaton is positioned through its global solutions to answer today's most critical electrical power management challenges.

Eaton is a power management company providing energy-efficient solutions that help our customers effectively manage electrical, hydraulic and mechanical power. A global technology leader, Eaton acquired Cooper Industries plc in November 2012. The 2012 revenue of the combined companies was $21.8 billion on a pro forma basis. Eaton has approximately 102,000 employees and sells products to customers in more than 175 countries. For more information, visit www.eaton.com.