The Superior and Ontario Courts justice services, which operated in eight separate buildings, was looking to increase efficiency, prompting officials to implement a project to integrate the operations into one modern building. In order to reach high-performance lighting goals and to meet LEED® requirements within budget, project coordinators selected Cooper Lighting, a division of Cooper Industries for a range of interior and exterior lighting solutions for their Durham Consolidated Courthouse in Oshawa, Ontario, now the most technologically advanced courthouse in Ontario.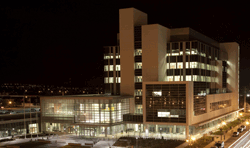 The building design team's intention was to save as much energy as possible in the new 446,000 sq. ft. building, while creating the correct lighting environment with the appropriate lighting fixtures to provide maximum efficiency. Because the integrated courthouse structure is a complex, multi-faceted building, there was a range of lighting needs in both interior and exterior locations where multiple Cooper Lighting products met the designers' requirements.

"We were particularly interested in meeting LEED Gold certification requirements for the Durham Consolidated Courthouse, and the result of our efforts is a building that is the most energy-efficient new Ontario government building," said Michael Shiu, Stantec Consulting, who was the lighting designer and electrical engineer on the project. "Cooper Lighting worked with us from the beginning to solve design issues and offered us wide-ranging indoor and outdoor lighting fixture solutions, even helping to customize products to suit our needs."

Located in downtown Oshawa, this new facility is the first to achieve LEED Gold certification and houses 33 courtrooms, three motions rooms, two conference/settlement rooms and related legal and court services.

The Durham Consolidated Courthouse utilizes Cooper Lighting's Portfolio compact fluorescent downlights in public areas, meeting rooms and offices, and Fail-Safe® confinement/correctional lighting fixtures in secure areas and holding cells. The company's unique architectural RSA® COMBOLIGHT® Galleria Series of suspended fixtures are located in the atrium.

In the boardrooms and library, designers chose Cooper's Corelite™ Stellar fluorescent luminaires to provide ambient lighting, which features an open-baffle design providing high vertical footcandles to facilitate efficient illumination. Throughout the project, designers used Metalux® fluorescent luminaires including the Ovation series in the main corridor and courtroom, while the courtroom walls are illuminated with the Neo-Ray™ PentaFlex™ 79PF perimeter lighting system.

For exterior lighting, the design team chose Invue® Mesa Area Luminaries, providing spill light control for illuminating the parking lot.

"The Durham Consolidated Courthouse was a complex project for designers," said Mark Eubanks, President at Cooper Lighting. "We are very happy that Cooper Lighting was chosen to meet all of the complex project requirements and help the building obtain LEED Gold certification. Energy efficiency was a key goal for this project and our products enabled the team to meet that goal."

This complete assortment of lighting fixtures represents Cooper Lighting's ability to meet today's multi-faceted indoor and outdoor lighting needs. The company offers a range of lighting options, all of which are specifically designed to maximize energy and cost savings.

For additional information, visit www.cooperlighting.com. For additional information on the LEED certification program, visit www.usgbc.org.