LEDtronics® announces its new line of ETL-listed LED Tube Light Fixtures specifically designed for energy-efficient, environment-conscious and high-output T8 LED tube lights that help commercial, governmental and industrial facilities reduce their power consumption and maintenance costs as well as minimize their ecological footprint.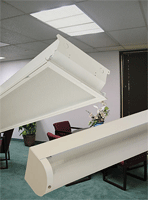 The American-made series of LEDtronics T8 fixture replacements consists of overhead lighting systems that are ruggedly constructed, durable, cool-running and provide efficient light dispersion, producing better illumination at lower cost than those they replace: LEDWSE200-2-4LR is a 4-foot/2-tube ceiling or flush wall-mounted T8 LED light fixture with wraparound lens for parking structures and garages; the similar LEDWSE200-3-4LR holds 3 tubes; LEDGHL310-2-4LR is a 4-foot/2-tube recessed-ceiling or T-Bar T8 LED light fixture, while the similar LEDGHL320-4-4LR accommodates 4 lamps.
All four come with 20-25% DR, high-impact, clear acrylic, prismatic lens secured by stainless-steel screws, and a heavy-duty, easily accessible safety switch that allows individual fixture power to be disconnected during re-lamping or maintenance. The ETL-listed LED T8 fixture housings are constructed from 22-gauge, cold-rolled steel with 18-gauge end plates with spot-welded seams and corners, have side KO's for 1/2? conduit, T-hinge and spring-loaded latch. The door frames are fully neoprene gasketed and painted after fabrication with a baked white polyester finish.
These premium-grade T8 fixtures for LED tube lights are ideal for parking structures and warehouses, as well as other locations that require above-average lighting in commercial and industrial facilities, offices, storage/warehouse areas, factory floors, schools, etc.
Compared to old-technology fluorescent T8 or T12 lighting fixtures with their inefficient ballasts, new-technology LED T8 lamps use drastically fewer watts, produce almost no heat, which reduces HVAC costs, contain no mercury and have no glass to break. In addition, the optimized lumen output can improve worker productivity and, in some installations, fewer number of LED T8 lighting fixtures may provide the same lighting level as inefficient fluorescent fixtures.
The new series of LEDtronics LED tube light fixtures for T8 LED lamps are available from LEDtronics and its distributors. Availability is stock to 4-8 weeks for larger requirements. Pricing for the LEDtronics LED T8 fixtures is $103 .00 to $162.00 each depending on the model number. LEDtronics LED T8 tube lights SOLD SEPARATELY. For additional information on incorporating LEDWSE200-2-4LR, LEDWSE200-3-4LR, LEDGHL310-2-4LR and LEDGHL320-4-4LR into your facility lighting plans or architectural designs, contact LEDtronics toll free at 1-800-579-4875 or telephone 310-534-1505, fax at 310-534-1424, email at [email protected] or mail at LEDtronics Inc., 23105 Kashiwa Court, Torrance, CA 90505. Visit our website at www.LEDtronics.com.