Years ago, fluorescent lighting dominated the outdoor landscape. With the advent of HID and its advantages, particularly in regards to ambient temperatures, it supplanted fluorescent. Today, we have come full circle with area lighting returning to its fluorescent roots. The evolution of electronic T5HO and advanced reflector technologies is creating a metamorphosis in fluorescent performance offering unprecedented energy savings and lighting control.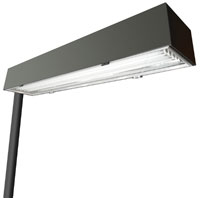 Morph Fluorescent Exterior Area Lights from Columbia use this T5HO technology to offer a potential 52% energy savings over traditional 400 watt HID sources. Bonus energy-savings can be realized using occupancy sensors which provide full brightness only when an area is in use and light only half the lamps while unoccupied. This feature allows Morph to easily meet new changes in California's Title 24 energy code and other jurisdictions which may follow suit.
Morph fluorescent luminaires provide additional advantages over traditional HID including instant on and re-strike, improved color rendering, longer lamp life, and more economic controls compatibility. Retrofit benefits include a one-for-one replacement with 400 watt HID, a lighter weight, easy installation onto existing poles, and no extra wiring for the optional occupancy sensor. Morph is certified by the International Dark-Sky Association. And we are proud to announce Morph has been accepted into the 2009 IES Progress Report, which recognizes advancements to the art and science of lighting.
Columbia Lighting products are marketed through electrical distributors to the electrical contractor and are installed in a variety of buildings such as schools, hospitals, office buildings, and libraries. Columbia Lighting maintains state-of-the-art manufacturing operations in Bristol, PA, and Juarez, MX. These facilities produce lighting fixtures destined for job sites or inventory in strategically located distribution centers and regional warehouses throughout North America. A long tradition of excellence and value has made Columbia Lighting one of the industry's most respected manufacturers, exemplifying quality, performance, and value.
For further information contact Columbia Lighting, 701 Millennium Boulevard, Greenville, SC 29607, phone 864-678-1000 or visit www.columbialighting.com.