Modern Forms received the Best Booth Award during the 2015 Lightfair International at the Jacob Javits Center in New York City. Modern Forms earned the accolade for excellence in visual display and product presentation in the 400 to 500 square feet category.
"This award is a wonderful recognition as we introduce our Modern Forms brand to the specification community," said Shelley Wald, President of Modern Forms, a WAC Lighting company. "Throughout the show, we received many comments on the clean, white display and the open styled approach to showcasing our diverse mix of exterior and interior LED luminaires."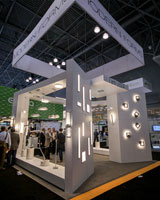 LIGHTFAIR International is the world's largest annual architectural and commercial lighting trade show and conference and is sponsored by the International Association of Lighting Designers (IALD) and the Illuminating Engineering Society (IES). Thousands of attendees flooded the largest trade show floor in LFI history ready to experience the global stage for lighting, design and technology innovation.
Engineered to the finest detail for unsurpassed performance and design sophistication, Modern Forms was established by WAC Lighting as a future forward manufacturer and innovative brand of unique, upscale LED luminaires. The product offering complements a diverse array of architectural interiors and exteriors while delivering high quality, functional illumination for luxury homes, hotels and commercial spaces.
For more information, contact MODERN FORMS. Tel. 1.800.526.2588 Website: www.MODERNFORMS.com.
Corporate headquarters are located in Port Washington, New York, with factories in New York Ontario, California and China.