Modern Forms is finally stepping into the spotlight. Making a profound statement in one of the largest showrooms at Lightovation, Modern Forms will open its own awe-inspiring, 15,000 square foot showroom at #4808 on the atrium of the Dallas Trade Mart, from Jan. 17–21. Once a subsidiary of the WAC Lighting Company group of brands, the company has left the nest and is ready to soar.
To celebrate its independence, Modern Forms will launch 220 more SKUs, a new category and a great number of additional ceiling fixtures. To effectively merchandise the line, the new Modern Forms space will be 50% larger than the current WAC and Modern Forms showrooms combined. That will allow Modern Forms to properly represent the brand with the dominance and market positioning it deserves, and customers will be given ample space to experience and appreciate the designs.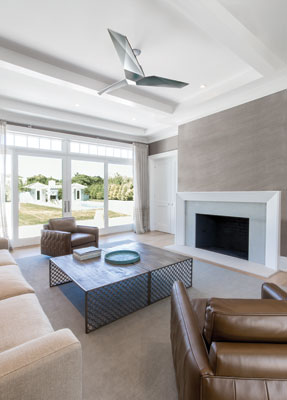 Founder Dirk Wald has never been known to simply test the waters. To formally address the rumors, Modern Forms' thrilling new category will be fans—a full-blown line of 80 SKUs and 27 core designs. No other company in the industry will feature the breadth of the line and the technology incorporated. A testament to the brand, Modern Forms Fans are all beautifully engineered, using only DC motors powered by WAC LED and controls technology, and of course priced to sell with all the features customers crave. The Modern Forms smart ceiling fans, most of which integrate LED luminaires, will feature a complete array of upscale interior/exterior styles that utilize smart "Adaptive Learning Technology" exclusively developed by WAC Lighting.
"We have 27 unique design styles and the entire line is connected to an easy-to-use app that adapts to your routine and reduces energy costs," says Mr. Wald. "And that's just half the story—our latest luminaires are bigger and bolder than before to reflect the latest expectations of the luxury design community.
"Prepare yourself to witness the strongest Modern Forms introduction since its inception," added Mr. Wald. "In addition to the groundbreaking smart ceiling fans, Modern Forms will launch over 220 luminaire designs, including many new sleek and sophisticated chandeliers, pendants and sconces."
In addition to the stunning display of design and technology, the showroom will offer a refreshing respite for customers. A state-of-the-art lounge will feature daily chef's breakfasts and lunches, and a colossal custom hospitality bar will serve top-shelf boutique-style beverages. Coffeehouse seating and the lounge make for a great place to rejuvenate or to meet up with friends.
Make sure to attend the Modern Forms "Get Lit Get Lucky" Get-Together on Thursday evening, January 18, from 6PM-9PM. Exciting raffles will be drawn throughout the night, including door prizes for 100 smart devices that work with Modern Forms Fans from ecobee, Nest, Amazon Alexa, and Google Home. Premium drawings will also include Tropical vacations and The Most Anticipated Electric Car Imported from California with a priority 2018 delivery reservation.
About Modern Forms
Engineered to the finest detail for unsurpassed performance and design sophistication, Modern Forms is a future-forward manufacturer and innovative brand of unique upscale all-LED luminaires, and a groundbreaking new line of smart interior and exterior ceiling fans. Originally a subsidiary of the WAC Lighting Company group of brands, Modern Forms took North America by storm in the last five years with avant-garde designs that leverage advanced LED technology developed exclusively by WAC engineering. Now it is the leading independent provider of technology and modern design in lighting and fans.
Modern Forms is designed to complement a diverse array of architectural interiors and exteriors while delivering high quality, functional illumination for luxury homes, hotels and commercial spaces. Each cutting-edge design is lovingly developed by in-house designers to showcase innovative applications of upscale materials and painstakingly engineered for the tangible details that convey quality and years of robust performance.
Modern Forms offers a vast presentation that achieves superior illumination from clean upscale forms only made possible with proprietary LED technology. Premium powder coat and plated finishes, marine grade stainless steel constructed designs, gold and silver leafing, and exclusively developed glass and crystal techniques, are just a few of the features that speak to discriminating specifiers.
Modern Forms can be reached at 1.866.810.6615 or by visiting www.modernforms.com.