Inspired by the golden age of flying, this smart fan takes technology to the next level. Pair it with the exclusive Modern Forms app to save on energy costs and intuitively create schedules that adapt to your behavior. Two simulated wood finished blades contrast with the matte black or graphite housings for an understated look in interior or exterior spaces. The Smart Fan is available with an optional LED luminaire encased in opal glass.
The new wet-rated Aviator Smart Fan from Modern Forms features scalable RF and Wi-Fi controls, smart integration and DC motor wiring functionality, making life simpler every day.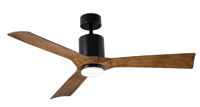 Aviator arrives with a pre-programmed hardwired RF wall control unit for instant local control right out of the box, while patent pending functionalities allow for multiple fans on one circuit as never before. Aviator can be controlled via Wi-Fi through the Modern Forms app, which allows multiple users to securely program the fan, making it suitable for homeowners and hospitality environments alike. It also integrates seamlessly with leading smart home devices and smart thermostats for the ultimate in home innovation.
A testament to the brand, Modern Forms Fans are all beautifully engineered, using a DC motor which is 70% more efficient than AC styles and powered by WAC LED and controls technology. The Modern Forms smart ceiling fans, most of which integrate LED luminaires, feature a complete array of upscale interior/exterior styles that utilize smart "Adaptive Learning Technology" exclusively developed by WAC Lighting.
Control the Aviator with the exclusive Modern Forms app.
About Modern Forms Fans
Modern Forms Fans are designed to revolve around you. They represent the future of modern smart fans, designed to adapt to your routine, reduce energy costs and make life simpler all year-round.
No other company in the industry offers the seamless technological innovation, elite craftsmanship and sleek style across such as a vast selection, from 26 inch to 120-inch fans.
Control everything locally from the wall or anywhere from the palm of your hand—the exclusive Modern Forms app communicates via Wi-Fi and integrates with other smart home devices you already own. Modern Forms Fans. Smart enough to simplify your life.
Modern Forms can be reached at 1-866-810-6615 or by visiting or by visiting www.modernforms.com.