After nearly seven decades of automotive racing, historic Martinsville Speedway is finally set to flip the switch. International Speedway Corporation (NASDAQ Global Select Market: ISCA; OTC Bulletin Board: ISCB) ("ISC") today announced that it will commit $5 million to equip the track with LED lighting, making it the first major motorsports facility to do so.

The lights, which will begin installation following this year's Goody's® Fast Relief 500 on October 30 and are scheduled to be in place by January 2017, represent the largest capital investment by ISC into Martinsville to date.

"Bringing lights to Martinsville Speedway is something that has been a priority for us," said ISC President John Saunders. "But just like Martinsville, we wanted the lights for this project to be unique. They had to be of the highest-quality for both the competitors and the fans."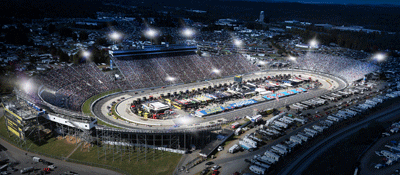 The project, dubbed "Light Up Martinsville," will see the installation of an industry-leading LED lighting solution, which provides better illumination, greater flexibility and more efficiency than traditional metal halide lights. In addition to enhancing the fan experience at Martinsville Speedway, LED lighting will also enhance the quality of the broadcast for fans watching at home. The lighting solution will consist of multiple structures located around the perimeter of the facility and the infield of the track.

"To be able to light this track up when the sun goes down, that's going to be something truly special," said Martinsville Speedway President Clay Campbell. "Our fans have told us that they want lighting. We're pleased to provide them with another amenity which will ensure Martinsville continues to be one of the premier destinations in motorsports."

Dale Earnhardt Jr., driver of the No. 88 Chevrolet SS for Hendrick Motorsports, was at Martinsville earlier today to help unveil the project.

"As a driver, I always get excited about coming to Martinsville," said Earnhardt. "Adding lights to the track will only add to its legacy."

Graybar, a leading distributor of high-quality electrical and communications products and services, will oversee the addition of Eaton's Ephesus Stadium 750 LED professional sports lights to Martinsville.

"We're proud to be a part of this historic project," said Bill Mansfield, Graybar Senior Vice President, Sales and Marketing. "When you combine Graybar's services along with the products from Eaton's Ephesus lighting business, this project will create the best lighting for the best drivers and fans in the world. We can't wait to 'Light Up Martinsville.'"


About International Speedway Corporation
International Speedway Corporation is a leading promoter of motorsports activities, currently promoting more than 100 racing events annually as well as numerous other motorsports-related activities. The Company owns and/or operates 13 of the nation's major motorsports entertainment facilities, including Daytona International Speedway® in Florida (home of the DAYTONA 500®); Talladega Superspeedway® in Alabama; Michigan International Speedway® located outside Detroit; Richmond International Raceway® in Virginia; Auto Club Speedway of Southern CaliforniaSM near Los Angeles; Kansas Speedway® in Kansas City, Kansas; Phoenix International Raceway® in Arizona; Chicagoland Speedway® and Route 66 RacewaySM near Chicago, Illinois; Homestead-Miami SpeedwaySM in Florida; Martinsville Speedway® in Virginia; Darlington Raceway® in South Carolina; and Watkins Glen International® in New York.
The Company also owns and operates Motor Racing NetworkSM, the nation's largest independent sports radio network and Americrown Service CorporationSM, a subsidiary that provides catering services, and food and beverage concessions. In addition, the Company has a 50 percent interest in the Hollywood Casino at Kansas Speedway. For more information, visit the Company's Web site at www.internationalspeedwaycorporation.com.
About Martinsville Speedway
Founded in 1947 by the late H. Clay Earles, Martinsville Speedway is only track which has hosted NASCAR Sprint Cup Series races every year since the division's inception in 1949. At .526 miles in length, Martinsville Speedway is the shortest track on the Sprint Cup circuit, and offers some of the most exciting and close-quarters racing in the sport. The track is also one of the most modern, with high-rise aluminum chair back seating, corporate and fan suites and state-of-the-art facilities for the media. Now owned by International Speedway Corporation, Martinsville Speedway conducts three major race event weekends each year. The track annually hosts the STP 500 and the Goody's® Fast Relief 500 NASCAR Sprint Cup Series races, the Alpha Energy Solutions 250 and Alpha Energy Solutions 200 NASCAR Camping World Truck Series races and the ValleyStar Credit Union 300 NASCAR's biggest, richest and most prestigious Late Model Stock Car race.

For more information about Martinsville Speedway, visit www.martinsvillespeedway.com

About Graybar
Graybar, a Fortune 500 corporation and one of the largest employee-owned companies in North America, is a leader in the distribution of high quality electrical, communications and data networking products, and specializes in related supply chain management and logistics services. Through its network of more than 260 North American distribution facilities, it stocks and sells products from thousands of manufacturers, helping its customers power, network and secure their facilities with speed, intelligence and efficiency. For more information, visit www.graybar.com or call 1-800-GRAYBAR.

About Eaton
Eaton is a power management company with 2015 sales of $20.9 billion. Eaton provides energy-efficient solutions that help our customers effectively manage electrical, hydraulic and mechanical power more efficiently, safely and sustainably. Eaton has approximately 95,000 employees and sells products to customers in more than 175 countries. For more information, visit www.eaton.com.