Nora Lighting's M2 LED Downlight Series has won a coveted LightFair 2021 Innovation Award in the Recessed Downlights, Wall Washers and Multiples Category. The award was presented at the recent opening of LightFair 2021 at the Javits Center in New York City.
An independent panel of judge from the IES and IALD reviewed hundreds of submissions and selected a Category Winner for each of 14 categories. Judging criteria included the product's clarity of purpose, versatility, adaptability, sustainability, ease of use, and design efficiency.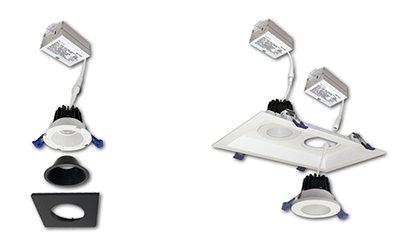 Nora's M2 downlights offers an array of exclusive features in a small aperture package that comes ready to install – without the need for a housing. The luminaire is available in round or square apertures and delivers up to 850 lumens. Numerous accessories include face plates to convert the fixture into multiple recessed lighting systems.
M2 can be specified in dedicated color temperatures at 2700K, 3000K or 4000K with 90+ CRI. Trim options include open downlight, adjustable gimbal, adjustable elbow, lensed downlight, squares, baffle and more.