Luminis (www.luminis.com), an established innovator and manufacturer of specification grade, interior and exterior lighting solutions, today announced the release of its Lumiquad family. Lumiquad is a range of square-shaped bollards and columns designed to illuminate and accent exterior spaces such as pedestrian areas, commercial perimeters, parks and urban environments.
With six bollard and seven column types, specifiers are able to mix and match Lumiquad products to suit any exterior design challenge. Available in 4x4 inch or 6x6 inch square footprints, Lumiquad's straight edges offer a crisp, geometric, contemporary aesthetic.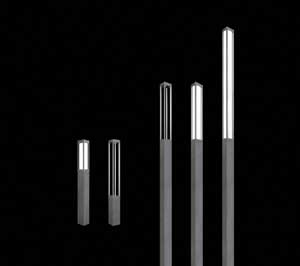 Lumiquad bollards are 42 inches in height with either a 12 inch acrylic diffuser, a 24 inch acrylic diffuser or no diffuser. Smaller footprint columns (4x4 inch) are available in heights ranging from 8 ft to 14 ft, with 24 inch or 48 inch diffusers, or no diffuser. And the larger 6x6 inch footprint is available in 8 ft to 20 ft heights with 24 inch, 48 inch or 72 inch diffusers or no diffuser. Versions without diffusers have zero uplight and are dark sky friendly. Ranging from 800 to 4,200 lumens for the bollards and 1,100 to 15,800 lumens for the columns, Lumiquad products can be used for functional illumination purposes or as an aesthetic complement to an exterior space.
Built to withstand demanding exterior environments Lumiquad is robust and durable. All models are IP65 rated with a lifetime of 50,000 hours.
The family is available in a standard 4000K / 80 CRI, with 2700K, 3000K and 3500K options. A decorative shroud and a block-out shield are also available options, and a decorative louver option is available on the no diffuser version.
Full details are available on the Luminis website at https://www.luminis.com/products/exterior-lighting/?family=lumiquad.
About Luminis
Luminis is an established manufacturer of contemporary specification grade indoor and outdoor lighting products. Combining timeless aesthetics and evolving technology, the company develops innovative luminaires that contribute to architectural intent while performing to the highest standards. Award-winning Luminis products are found in commercial, institutional, retail and municipal applications and are available throughout North America. More information about Luminis is available at www.luminis.com.
About The Luminaires Group
The Luminaires Group (TLG) is a leader in the specification-grade lighting industry. Through its unique niche brands (a-light, Cyclone, Eureka, Luminaire Led and Luminis), TLG provides a wide range of innovative lighting solutions for both interior and exterior use. Each company within TLG has a deep connection to the market segment it serves - designing, developing and manufacturing some of the industry's most innovative products.
TLG executes a strategy of acquiring companies that bring specific competences to the group and supports them in their continued evolvement. The organization leverages this combined knowledge and expertise to continuously improve process and product design, to deliver the best possible combination of cutting edge lighting and unsurpassed support. Each brand in the group retains its autonomy and brand identity facilitating an organizational culture that is nimble and able react to its own market needs.
Trusted by architects, landscape architects, interior designers and engineers, TLG products can be found illuminating spaces throughout North America. Specified in commercial, institutional, hospitality and urban environments, TLG's luminaires have been recognized for excellence and innovation by some of the leading authorities in lighting and design. They have received many awards, including several prestigious Red Dot Awards.
Find out more about the Luminaires Group at www.luminairesgroup.com.