LEDtronics®, Inc., today announced that it helped the Hilton Garden Inn in Washington, D.C., eliminate the time and costs involved in maintaining old, incandescent bulbs on their marquee canopy by replacing them with the latest in lighting technology — LED bulbs.
"We have been using the old, incandescent bulbs in the marquee since the hotel was built in 2011, and they constantly burnt out and needed to be replaced at least once a week," states Santosh Borrison, Hilton Garden Inn Chief Engineer. "By switching to LED lamps from LEDtronics, not only do the lights provide a nice appearance, but we do not need to change the bulbs for years, and this saves us an extensive amount of maintenance time and costs."
LED Bulbs Provide Longer Life and Reduced Maintenance Costs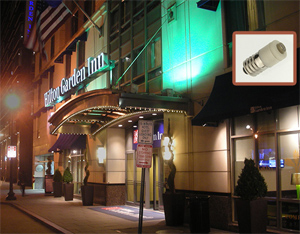 "The old lights on the Hilton Garden Inn's canopy marquee were different because they consisted of mini screw-based lamps with polycarbonate globes on each incandescent bulb," states Gary Anderson, LEDtronics' representative from Eastern Electronics. "These lights were purely decorative, and we found that our standard, screw-in bulbs designed for simple, LED panel indicators and 12 voltage A/C worked perfectly for this upgrade project."
These Miniature E10 Screw Based T3¼ (9mm) LED Lamps directly replace incandescent bulbs 407, 502, 3708 (5/6V); 3724, 1446 (12/14V), and 1449, 52 (24V) with warm, white light. In addition, they offer up to 90% energy savings over incandescent bulbs, with considerably longer life span.
"Lumen maintenance of these white LED lamps is greater than 70% at 35,000 hours of operation, based on engineering testing and probability analysis," states Anderson. "With the new LED bulbs, the Hilton Garden Inn has taken significant steps in reducing its energy and maintenance costs while increasing sustainability."
About LEDtronics®
The pioneer of LED lights and lighting products for all major industries, Pervaiz Lodhie, founded LEDtronics, Inc. in 1983 with his wife, Almas. For the past 30 years in Torrance, Calif., LEDtronics has been the leader in designing and manufacturing environmentally friendly, low-power-usage, long-life LED bulbs and lamps to replace incandescent bulbs. The company is a certified GSA and Minority-Owned Small Business and has grown into one of the world's leading suppliers of innovative LED lights, lamps, clusters and arrays. LEDtronics now employs over 300 people with sales representatives worldwide, and prides itself on delivering LED lighting solutions and products of consistently high quality to exceed customer expectations.
For more information, call us at (800) 579-4875 or visit our website at www.LEDtronics.com.