LED*Waves, a world-leading manufacturer of high-end LED lights, announces that Phoenix Kiosk, Inc., a manufacturer of self-service kiosks used LED*Waves' High Power LED Recess Light to illuminate their innovative, life-enhancing Secure Medical Healthkiosks® booths.
"LED*Waves is very pleased with how the Healthkiosk® designers integrated our LED Recess Lights into their sophisticated diagnostic booths," said Joel Slavis, President and CEO of LED*Waves, Inc. "Hopefully, our comforting LED lights will play some part in completing the patients' booth experience – and perhaps, with accurate diagnostic results, even enhance their lives in the long-term."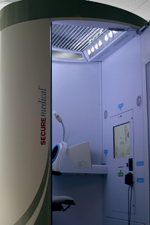 Phoenix Kiosk's Secure Medical Healthkiosk® is a self-service diagnostic tool designed to enable a remotely stationed health care provider to interact with and collect data from a patient. The Healthkiosk® booth is a fully functioning video conferencing station with a variety of integrated diagnostic health tools available.
With such a high-tech, self-contained apparatus, Phoenix Kiosk's engineers needed an unobtrusive and attractive light source that soothes patients and emboldens them into an equilibrious state optimal for vital sign diagnosis.
Enter the 3-Watt LED Recess Light from LED*Waves – 12 LEDs of illumination integrated in an aluminum alloy 1x4 design for 1200 lumens in warm light and 1800 lumens in cool light. With an adjustable rotation for total beam control, the seamless recess lights melded into Healthkiosk's® metallic, crate-like ceiling for silvery spindles of LED illumination.
"Lighting was a critical component of the Healthkiosk® project," said Alan Work, CEO of Phoenix Kiosk, Inc. "We needed an affordable solution that did not require too much space, ran cool, and put off quality lighting that enabled our high definition camera to easily capture details on the patient. The LED*Waves recessed lighting achieves all that, and looks great as well."
Whether illuminating patients' smiles or re-setting their senses, LED*Waves' High Power LED Recess Lights brought just what the doctor -- and Phoenix Kiosk -- ordered: soothing, glowing eggshells inoculated with LED elegance and efficiency.
About Phoenix Kiosk
Phoenix Kiosk, Inc. (www.phoenixkiosk.com) is based in Tempe, Arizona and develops hardware and software for self-service, interactive and kiosk applications. Through its online store at www.kioskstuff.com, Phoenix Kiosk also offers fulfillment of consumable supplies like kiosk paper and cleaning and marketing materials designed to make distributed self-service applications successful and efficient. Phoenix Kiosk services customers in several countries throughout North, Central and South America as well as India.
About LED*Waves
LED*Waves is at the forefront of global LED product development and high-end lighting solutions. Specializing in architectural, recessed, and linear LED lighting, LED*Waves' products are powered by LED Chips from Cree, Inc., a manufacture of semi-conductor materials and leader in solid-state lighting. With its PAR-, MR-, and E-Series of LED light bulbs, LED*Waves provides ultra-high brightness LED product lines that satisfy the growing global need to replace traditional lighting with LED technology for general illumination. Among its other benefits, LED*Waves' environmentally responsive LED technology aids in lowering CO2 emissions – the dominate greenhouse gas contributor to global warming. LED*Waves is headquartered in New York, New York. For more, visit www.ledwaves.com.