Power management company Eaton today announced that its Cooper Lighting division has introduced the highly efficient McGraw-Edison TopTier™ parking garage and canopy luminaire. Incorporating WaveStream™ light-emitting diode (LED) technology, the fixture's superior, patented optical control and patent-pending design improves visual comfort to enhance safety while providing maximum energy savings of up to 76 percent annually.

WaveStream LED technology transforms the LED point source into an elegant luminous plane. A patented optical system maximizes the amount of light injected into the WaveStream panel, dramatically improving luminaire efficiency. Laser-precise AccuAim™ optics arranged in exacting patterns provide unparalleled brightness control while delivering the maximum amount of light on task. The TopTier luminaire's resulting high level of uniformity enhances safety in parking garages, stairwells, covered walkways, as well as other low-bay and canopy applications.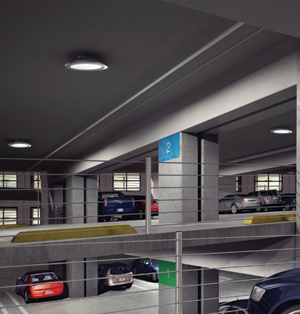 "Our TopTier luminaire offers an unparalleled combination of performance and visual comfort," said Mark Eubanks, president, Eaton's Cooper Lighting division. "The luminaire's industry-leading optical performance, low power consumption, low life cycle cost, versatile configurations and architectural aesthetics serve as an ideal solution for both retrofit and new construction opportunities."

The McGraw-Edison TopTier luminaire provides up to 118 lumens per watt while offering energy savings of up to 76 percent when compared to traditional high intensity discharge. The fixture is available in five lumen packages ranging from 3,000 to 9,000 lumens with a standard 4000 Kelvin Correlated Color Temperature (CCT) and a minimum 70 Color Rendering Index. Optional color temperatures include 3000K CCT and 6000K CCT. The TopTier luminaire is offered in three unique optical distributions (concentrated, medium and wide), satisfying multiple mounting height needs to meet Illuminating Engineering Society's recommended light levels. To facilitate ease of installation in three simple steps, the TopTier luminaire's versatile mounting configurations include surface/j-box, pendant, trunnion and wall mounting. The fixture has a 5-year warranty and retains a high lumen output at 60,000 hours per Illuminating Engineering Society of North America TM-21 standard.

To further enhance energy savings, the TopTier luminaire is available with an optional integrated dimming occupancy sensor and other control options. In addition to financial benefits, the control options are designed to be simple and cost-effective ASHRAE and
Title 24 compliant solutions.

To learn more about the McGraw-Edison TopTier luminaire and WaveStream LED technology available from Eaton's Cooper Lighting business, please visit www.cooperlighting.com.

Eaton's Cooper Lighting division delivers a range of innovative and reliable indoor and outdoor lighting solutions, as well as controls products specifically designed to maximize performance, energy efficiency and cost savings. The Lighting business serves customers in the commercial, industrial, retail, institutional, residential, utility and other markets.

Eaton's Electrical Sector is a global leader with expertise in power distribution and circuit protection; backup power protection; control and automation; lighting and security; structural solutions and wiring devices; solutions for harsh and hazardous environments; and engineering services. Eaton is positioned through its global solutions to answer today's most critical electrical power management challenges.

Eaton is a power management company providing energy-efficient solutions that help our customers effectively manage electrical, hydraulic and mechanical power. A global technology leader, Eaton acquired Cooper Industries plc in November 2012. The 2012 revenue of the combined companies was $21.8 billion on a pro forma basis. Eaton has approximately 102,000 employees and sells products to customers in more than 175 countries. For more information, visit www.eaton.com.