Power management company Eaton today announced that its Galleon™ light-emitting diode (LED) area luminaires from its Cooper Lighting Division have improved the lighting performance, energy efficiency and reliability at Pioneer Ford, located in Bremen, Georgia. The conversion has resulted in a 61 percent energy usage reduction, while providing brighter and uniform illumination, and reducing the high number of lighting maintenance issues the auto dealership was experiencing.

"The lighting is amazing," said Bob Winiarczyk, president and dealer principal, Pioneer Ford. "It's definitely a more modern, cleaner look. And with the recent time change, customers can still see the color and features of the vehicles during evening hours. Even the transport drivers delivering vehicles at night have commented on how unloading vehicles is like working in daylight."

Working with local utility Georgia Power, the team conducted a photometric analysis to ensure the new lighting would meet Illuminating Engineering Society (IES) standards and the desired illumination (footcandle) levels. Using the existing pole locations, the conversion replaced 62,1000-watt metal halide products with 421-watt Galleon fixtures to meet high lumen output needs for the new and used vehicle inventory display areas.

"Auto dealerships are very different than typical outdoor area lighting applications," said Jonathan Bozeman, account executive, Lighting Services, Georgia Power. "While most exterior lighting solutions are installed for safety or security, dealerships also install lighting elements to draw the customer's eye to the dealership and its vehicles."

The award-winning Galleon fixtures incorporate the patented, high-efficiency AccuLED Optics™ system that delivers superior optical control, allowing customers to better see the dealership's cars' distinctive features, details and coloring, key factors in the buying process.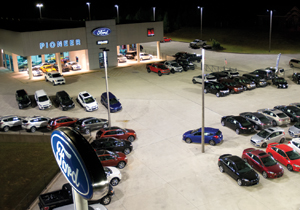 The choice of 16 specialized optical distributions provides the flexibility to meet application-specific needs.

"Upgrading a dealership with our sustainable LED solutions not only helps to better highlight the vehicles, but also reduces its electrical load and carbon footprint," said Mark Eubanks, president, Eaton's Cooper Lighting Division.

For more information on Eaton's Cooper Lighting business, visit www.cooperlighting.com.

Eaton's Cooper Lighting Division delivers a range of innovative and reliable indoor and outdoor lighting solutions, as well as controls products specifically designed to maximize performance, energy efficiency and cost savings. The Lighting business serves customers in the commercial, industrial, retail, institutional, residential, utility and other markets.

Eaton's Electrical Sector is a global leader with expertise in power distribution and circuit protection; backup power protection; control and automation; lighting and security; structural solutions and wiring devices; solutions for harsh and hazardous environments; and engineering services. Eaton is positioned through its global solutions to answer today's most critical electrical power management challenges.

Eaton is a power management company with 2013 sales of $22.0 billion. Eaton provides energy-efficient solutions that help our customers effectively manage electrical, hydraulic and mechanical power more efficiently, safely and sustainably. Eaton has approximately 103,000 employees and sells products to customers in more than 175 countries. For more information, visit www.eaton.com.