Power management company Eaton today announced that its Cooper Lighting division has provided products and solutions to help Industrial Developments International (IDI), a privately held real estate company with offices across the nation, reduce energy costs at its Jurupa Valley, Calif., facility. By utilizing a range of exterior light-emitting diode (LED) solutions, the company will achieve proper illumination while also realizing a total energy savings of more than 50 percent compared to metal halide equivalents.

"Our goal with this project was to create one of the first LED warehouse buildings in Riverside County," said Alan Sharp, senior vice president, IDI. "Working with the solutions from Eaton's Cooper Lighting division, we were able to do just that, saving on energy and reducing maintenance costs for the future. We're extremely pleased with the outcome and hope to be a model for success in the industry."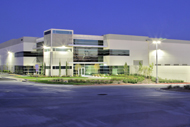 To create a safe environment with a contemporary, cohesive look for its building's exterior and parking lot, IDI, partnering with design-build contractor, Excellence in Electricity, utilized McGraw-Edison Ventus luminaires. Featuring the AccuLED Optics™ system, Ventus products were able to provide a uniform distribution and scalability to meet application requirements, using fewer fixtures to achieve the desired light levels. At 309 watts, the Ventus LED fixtures were able to generate a light level similar to a 458-watt metal halide equivalent, allowing for a reduced number of fixtures and a savings of more than 50 percent on exterior lighting cost.

For wall-mounted applications, the company chose Lumark Crosstour wall pack luminaires. Providing ample and precise illumination with architectural styling, Lumark Crosstour fixtures offer comparable light levels of 175-watt metal halide products, using just 30 total watts.

Beyond parking lot and building façade illumination, the company wanted to create a dramatic effect on the building's exterior. To this end, they installed Invue Vision LED floodlights. Combining energy savings and control options, Vision LED floodlights offer superior optical control and seven unique optical distributions to precisely illuminate and emphasize target applications while eliminating unwanted spill light. Fixtures also feature a 4000 Kelvin (K) correlated color temperature (CCT) to match all other LED products illuminating the building's facade.

"More and more customers are realizing that our LED products are a viable option for a range of indoor and outdoor lighting applications," said Mark Eubanks, president, Eaton's Cooper Lighting division. "Making the switch is an even easier decision for our customers once they learn about the reduction in energy and maintenance costs, as well as the long life associated with LED products.

By utilizing innovative LED solutions from Eaton's Cooper Lighting business, the facility was able to satisfy stringent lighting goals that included reducing energy costs while still providing lighting to satisfy safety and security issues. While IDI expects to continue seeing an overall energy savings, the company can also enjoy the added bonus of long life – up to 60,000 hours for select products – and reduced maintenance for all of the Lighting division's LED products.

To learn more about solutions available from Eaton's Cooper Lighting business, please visit www.cooperlighting.com.

Eaton's Cooper Lighting division delivers a range of innovative and reliable indoor and outdoor lighting solutions, as well as controls products specifically designed to maximize performance, energy efficiency and cost savings. The Lighting business serves customers in the commercial, industrial, retail, institutional, residential, utility and other markets.

Eaton's Electrical Sector is a global leader with expertise in power distribution and circuit protection; backup power protection; control and automation; lighting and security; structural solutions and wiring devices; solutions for harsh and hazardous environments; and engineering services. Eaton is positioned through its global solutions to answer today's most critical electrical power management challenges.

Eaton is a power management company providing energy-efficient solutions that help our customers effectively manage electrical, hydraulic and mechanical power. A global technology leader, Eaton acquired Cooper Industries plc in November 2012. The 2012 revenue of the combined companies was $21.8 billion on a pro forma basis. Eaton has approximately 102,000 employees and sells products to customers in more than 175 countries. For more information, visit www.eaton.com.