Power management company Eaton introduces the Metalux Cruze™ LED Retrofit Kit, an energy-efficient solution featuring simple and quick installation for customers wanting to easily upgrade from fluorescent luminaires to LED technology without the need to install a new fixture. Saving on installation labor costs, the high-performing and aesthetically-styled LED system features the latest solid state lighting and driver technology for optimal performance, while providing energy savings of more than 50 percent compared to select fluorescent fixtures.
"The Cruze Retrofit Kit is engineered to make it easy for customers to upgrade their current lighting to energy-efficient LED technology," said Joe Semaan, director, Marketing and Product Management, Ambient Products. "With no tools or new wiring required, our retrofit kit can be installed in less than five minutes, resulting in significantly lower labor costs than installing a new fixture."
Ideal for offices, healthcare, educational and retail applications, Eaton's LED retrofit kit utilizes the existing fluorescent luminaire's housing to save on the cost of purchasing a complete fixture, while also reducing material disposal cost in a retrofit project.
The highly efficient light-emitting diode system with an advanced optional design provides optimal light uniformity while delivering high performance efficacy of up to 138 lumens per watt. Available in 2-feet by 2-feet and 2-feet by 4-feet sizes, four stocked lumen levels and two color temperatures at 85+ color rendering index, the product is designed to last 60,000 hours at 75 percent lumen maintenance.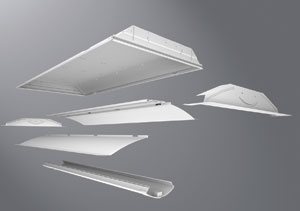 The Metalux Cruze Retrofit Kit is available with a variety of control options including an optional integrated sensor system, optimized to meet energy codes for occupancy sensing and daylight harvesting. Factory wired for out-of-the-box operation using thoughtful default setting, the system reduces time and complexity with no additional wiring and adds lighting control without commissioning. If the application demands more, an optional handheld remote is available for field adjustments to make changes to one or more fixtures. The system achieves the lowest installed cost as compared to traditional control products.
In addition, the retrofit kit is available with Eaton's connected lighting systems, including the WaveLinx Wireless Connected Lighting System and the LumaWatt Pro Connected Lighting System powered by Enlighted. The WaveLinx wireless system is a simple to install "no new wires" system that eliminates the cost and complexity of meeting code and programming advanced control systems while providing a flexible and reconfigurable wireless topology for on the fly space adjustments through a mobile app. The LumaWatt Pro system powered by Enlighted allows enterprise customers to take advantage of the system's advanced LED lighting technologies and wireless sensing capabilities to acquire actionable, granular data on lighting energy performance, space utilization, real time location services and building system integration.
The product is DesignLight Consortium® qualified, making it eligible for energy rebates.
Visit www.eaton.com/lighting or view a video for additional information.
Eaton delivers a range of innovative and reliable indoor and outdoor lighting solutions, as well as controls products specifically designed to maximize performance, energy efficiency and cost savings. Eaton lighting solutions serve customers in the commercial, industrial, retail, institutional, residential, utility and other markets.
Eaton's electrical business is a global leader with expertise in power distribution and circuit protection; backup power protection; control and automation; lighting and security; structural solutions and wiring devices; solutions for harsh and hazardous environments; and engineering services. Eaton is positioned through its global solutions to answer today's most critical electrical power management challenges.
Eaton is a power management company with 2016 sales of $19.7 billion. We provide energy-efficient solutions that help our customers effectively manage electrical, hydraulic and mechanical power more efficiently, safely and sustainably. Eaton is dedicated to improving the quality of life and the environment through the use of power management technologies and services. Eaton has approximately 95,000 employees and sells products to customers in more than 175 countries. For more information, visit Eaton.com.