Power management company Eaton, a 2016 ENERGY STAR® Partner of the Year, today announced that its light-emitting diode (LED) products received three prestigious Next Generation LuminairesTM (NGL) Solid-State Lighting (SSL) Design Competition awards and two LIGHTFAIR® International (LFI) Innovation Awards®. The awards were presented during ceremonies at LIGHTFAIR International on April 26.

"Our design and engineering teams have worked hard to develop high-performing, efficient solutions that allow our customers exceptional lighting and controls performance," said Kraig Kasler, president, Eaton's Lighting Division. "These recognitions are validation of that hard work and further proof that our lighting solutions stand out in this competitive market."

The honored products include:
NGL SSL Design Competition Awards
-The Portfolio 4-inch LED Dim to Warm Downlight received the highest Outstanding honor in the Indoor competition for its dimming capability, color quality and color consistency. The downlight creates a rich, warm glow when dimmed and the diffused optical system provides superior light control and low aperture brightness. The product was one of only three products recognized with an Outstanding honor.

-The Invue Arbor LED post top luminaire received a Recognized honor in the Outdoor competition. As a design element and featuring the company's WaveStreamTM LED technology, the Arbor was selected for its appearance and its smooth and uniform distribution.

-The Ephesus Stadium Pro LED sport lighting luminaire received a Notable award in the competition's first Sports Lighting category. The fixture's glare control, color quality and ease of installation and the DMX control for color-tuning were recognized by the judges.

LFI Innovation Awards
-The Invue Arbor LED Outdoor LED Collection, which includes a family of a post top luminaire, bollard and surface-mounted product, received a judges' Citation award, a special recognition for an innovative product at the judges' discretion. The family was recognized for its performance, low-glare and organically-inspired outdoor appearance.

-Eaton's Ephesus All Field LED sports lighting product was a category winner in the Sports, Step, Landscape, Pool and Fountain Luminaires and was recognized for its high-performing, energy-efficient systems offering propriety controls and monitoring capabilities.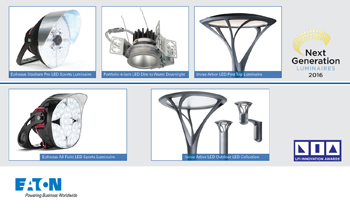 As LED technology and product design have evolved, requirements for these awards have become increasingly demanding, particularly for the NGL SSL Competition. "The NGL bar is set high, and the tires get kicked often and hard," said DOE SSL Program Manager Jim Brodrick. "So when the judges award a product, you know it was well earned."

Sponsored by the U.S. Department of Energy (DOE), the Illuminating Engineering Society and the International Association of Lighting Designers, NGL was launched in 2008 to encourage technical innovation and promote excellence in the design of energy-efficient LED luminaires for commercial, industrial and institutional applications. This year's competition recognized a total of 25 commercial LED indoor and outdoor lighting products for excellence from 93 judged entries.

The 2016 LFI Innovation Awards highlight the industry's most innovative products and designs introduced during the last 12 months. This year's competition has 275 entries spanning 15 categories. Of the 16 winning companies, Eaton's Arbor product family was one of four key awards.

For additional information on Eaton's lighting solutions, visit www.eaton.com/lighting.

Eaton delivers a range of innovative and reliable indoor and outdoor lighting solutions, as well as controls products specifically designed to maximize performance, energy efficiency and cost savings. Eaton lighting solutions serve customers in the commercial, industrial, retail, institutional, residential, utility and other markets.

Eaton's electrical business is a global leader with expertise in power distribution and circuit protection; backup power protection; control and automation; lighting and security; structural solutions and wiring devices; solutions for harsh and hazardous environments; and engineering services. Eaton is positioned through its global solutions to answer today's most critical electrical power management challenges.

Eaton is a power management company with 2015 sales of $20.9 billion. Eaton provides energy-efficient solutions that help our customers effectively manage electrical, hydraulic and mechanical power more efficiently, safely and sustainably. Eaton has approximately 97,000 employees and sells products to customers in more than 175 countries. For more information, visit www.eaton.com.