Power management company Eaton today announced that more than 4.8 km – totaling nearly three miles – of the io™ light-emitting diode (LED) lights from its Cooper Lighting Division have been installed in Terminal 2 (T2) of the Chhatrapati Shivaji International Airport in Mumbai, India. The io LED products are designed for wall grazing, combining energy efficiency with optical performance excellence, helping the facility to earn Leadership in Energy and Environmental Design (LEED) Gold Certification.

"Our new terminal will not only be a high-traffic destination for travelers, but also a unique architectural design area packed full of energy-efficient products like the io LED fixtures, " said Saurabh Singh, assistant vice president - contracts at GVK - Mumbai International Airport Pvt. Ltd.

Mumbai's international airport recently opened the new T2 terminal, which will see more than 40 million visitors annually and features decorated carpets, an art museum and bold designs. The io LED luminaire, which was specifically designed for wall grazing applications, was chosen after rigorous competitive mock-ups.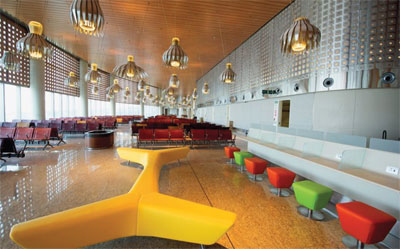 The lighting design challenge was to uniformly light a six meter high by 4.8 km long wall so that when a stainless steel decorative perforated panel was installed in front of the wall, the impact of the silhouetted stainless steel was visually powerful. Given the enormous scale of this wall, achieving the visual affect while meeting the LEED Gold power density restrictions was a challenge. During the mock-up trials, only solutions from the io product line were able to uniformly light the wall from floor to ceiling while providing ideal optical efficiency. The io line™ series 2.0 product was the best solution to meet the aesthetic and energy efficient design challenges.

"Our award-winning LED io line series 2.0 is a perfect fit for this modern building, providing an ideal blend of energy efficiency and performance to help illuminate the architectural elements of this impressive terminal," said Mark Eubanks, president, Cooper Lighting Division. "The project leverages efficient solutions to provide a specially designed wall grazing feature that delivers exceptional light quality and uniformity to help enhance the terminal's aesthetics."

Several other features of the io products led to their selection in the new T2 architecture, including the remote driver location to easily address maintenance issues; meeting strict testing standards; the Ingress Protection (IP) rating of IP66 to prevent against dust, insects, moisture and water; and the fixture's adjustability to allow for precise aiming. The io patented optical assembly delivers a powerful 10-degree projection of light while consuming very little energy. Reduced power consumption and savings is a main component of LEED certification scoring, helping the airport to recently achieve its LEED Gold certification.

All the LED solutions are located in T2's unique perimeter perforated wall display, the service core of the terminal and the vitrine display.

To learn more about Eaton's Cooper Lighting business, please visit www.cooperlighting.com.

Eaton's Cooper Lighting Division delivers a range of innovative and reliable indoor and outdoor lighting solutions, as well as controls products specifically designed to maximize performance, energy efficiency and cost savings. The Lighting business serves customers in the commercial, industrial, retail, institutional, residential, utility and other markets.

Eaton's Electrical Sector is a global leader with expertise in power distribution and circuit protection; backup power protection; control and automation; lighting and security; structural solutions and wiring devices; solutions for harsh and hazardous environments; and engineering services. Eaton is positioned through its global solutions to answer today's most critical electrical power management challenges.

Eaton is a power management company with 2013 sales of $22.0 billion. Eaton provides energy-efficient solutions that help our customers effectively manage electrical, hydraulic and mechanical power more efficiently, safely and sustainably. Eaton has approximately 101,000 employees and sells products to customers in more than 175 countries. For more information, visit www.eaton.com.