Today Aleddra LED Lighting, a business unit of Lightel Technologies, Inc., announces its LED tube patents and advises users to avoid LED products with false UL labels.
Aleddra LED Lighting, a technology innovator in energy-efficient lighting, has been growing its market share rapidly. The success is mainly due to its patented safety switch design for LED tubes. The design not only saves 50-70% in installation time and costs, but also provides extra protection for maintenance crews from electrical shock hazards. Aleddra's patents on LED tubes include:
• US patent #: 8147091
• US patent #: 8262249
• US patent #: 8322878
These patents cover, respectively, the use of the double safety switch, the utility switch, and the combination of both on LED tubes in order to eliminate electrical shock hazards. The end cap design of the original Aleddra LED tube with the safety switch is shown in Figure 1.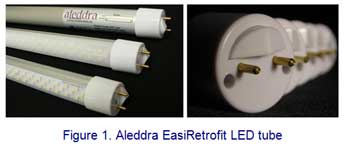 "Most end users and lighting distributors and contractors are not aware of the patent issue related to LED technology," explains Patrick Yu, Aleddra GM. "The patent issue surrounding LED products is no different from the more publicized patent war on smart phones. Any LED product is likely to be covered by one or more patents. As a technology innovator, Aleddra takes pride in its technical accomplishments, and would like to raise public awareness of its patent rights on LED tubes. We encourage lighting distributors, contractors, and end users to double-check the source of their LED tubes, lest they find themselves unnecessarily dragged into the patent dispute of LED manufacturers."
In addition to the patent issue, another overlooked problem that is often overlooked on the market today is the misuse of UL labels on LED products. "A common sales trick is to apply a valid UL certificate to a non-UL product. We see it happen to the LED tube when one manufacturer uses the UL certificate number of a safety-switch LED tube or a single-ended LED tube on a double-ended LED tube without any safety switch. This fools many end users and even lighting professionals because it is hard to tell the difference. However, it is both feasible and advisable to stay clear of non-safety-switch double-ended LED tubes, because it is not possible for double-ended LED tubes to pass the UL safety test without the safety switch. The photo below shows one such double-ended tube with a false UL label."



To assist end users, lighting distributors and contractors in avoiding these falsely labeled LED products, Aleddra is happy provide free consulting on the LED tube. For assistance, please email your inquiry to [email protected].
PR Contact: Matthew Maa, Marketing Manager, [email protected]