Kim Lighting, the premiere manufacturer of architectural outdoor lighting, announces the launch of its Archetype LED. The Archetype LED offers an eclectic shape that readily adapts to and universally complements contemporary architectural design while providing an energy efficient solution. The two available sizes work together to provide a logical transition from parking lot to building entrance by decreasing luminaire scale and maintaining a consistent design theme.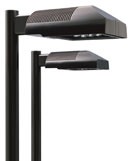 The Archetype LED is designed to employ Kim Lighting's patent pending MicroEmitter™ technology featuring its unparalleled ability to capture and harness light using a patent pending optical system that shapes, points and tightly controls the beam of individual clusters of LEDs within independent MicroEmitter modules. The result is placing light where it is needed, creating superior uniformity by minimizing overlapping horizontal footcandles, and in turn reducing energy waste.
Furthermore, the Archetype LED is designed with an upgradeable EmitterDeck design allowing ease of change-out in the field as LED technology advances. Kim Lighting designed the Archetype LED with sustainability in mind: the product is constructed from more than 90 percent post and pre-consumed recycled materials, the housing, LEDs and drivers contain no lead or mercury, all electronic components are RoHS compliant, upgradeability prevents landfill dumping from non-upgradeable systems, and 580nm color temperature options provide safety for sensitive wildlife zones.
Key product attributes and benefits include:
- Designed to employ Kim Lighting's patent pending MicroEmitter™ Technology.
- Optimal glare control for safety and visual comfort.
- MicroEmitter modules are precisely aimed to hit the lighting task, reducing spill light and energy waste.
- LED modules are easily upgradeable as LED technology advances.
- Available in IES Type II, III, IV and V, and introduces one-way left and one-way right distributions for both small and medium sizes.
- Designed with a Dual Thermal Management System, conduction and convection, to absorb and dissipate heat, and introduces an exclusive LifeShield Protection System monitor to maintain
lumen loss depreciation to less than 15% at 100,000 hours of operation (based on IESNA LM-79 and LM-80) in extreme and fluctuating environmental conditions without overheating or failing.
- Standard LED driver features a 0-10V dimming interface, allowing 0-100% output controls when coupled with a control or dimming system.
- Available in three standard color temperatures, 3500K, 5100K and 1700K (Amber - 580nm), other color temperatures are available special order.
- Designed with an exclusive EmitterDeck design allowing ease of change-out in the field as LED technology advances.
- Standard tempered flat glass (convex glass and polycarbonate lens optional).
- Compatible driver options for renewable energy systems.
- IP-66 rated optical chamber.
- Progress 5/6/10 warranty. Contact factory for provisions.
- Meets ARRA and NAFTA criteria.
Kim Lighting is the world's foremost designer and manufacturer of quality, high-performance outdoor architectural and landscape lighting products. These include roadway, pedestrian, low-level and buildingmounted solutions for contemporary or traditional commercial, industrial and institutional applications. Kim Lighting is leading the industry in the development of LED products that use the latest technologies and determining standards for the capabilities of LED for general outdoor illumination. Kim Lighting, a
division of Hubbell Lighting, Inc., was founded in 1934 and is based in City of Industry, Calif. More information is available at www.kimlighting.com.