This week, Juno Lighting Group®, a leader in high-quality, commercial and residential lighting solutions, launched its completely redesigned website. Based on feedback from end users on the tools they need to efficiently locate products and information, the new website is now equipped with features that include enhanced search, more product and application photography, simplified navigation and more. Designed to enhance user experience for all audiences, commercial and residential architects, lighting designers, builders and consumers can now easily find a Juno Lighting Group product suitable for the needs of their application, as well as detailed information for over 50,000 products across all six of the company's brands which include Juno®, Indy™, AccuLite™, Aculux®, NaviLite® and DanaLite luminaires.
New features of Juno Lighting Group's website include:
Faster Search: Users are now able to search by general lighting category, brand and text box, and can utilize the Juno Lighting Group Product Selector to assist in selection of a luminaire. The Product Selector features 15 filters that allows users to specify their exact needs - from source and size to category and style - providing the fastest way to locate luminaires for a specific application.
New Look: The redesigned site features an attractive page layout that is structured to provide quick access to product information, including spec sheets, IES files and instruction sheets. In addition, the new design makes compatible products such as housings and trims, track fixtures and systems and accessories for all product categories simple to locate. It also features more product and application photography as well as a photo and video gallery.
Simplified Navigation: With drop down selectors, the use of common terms and identical headers and footers, navigation of the website is more logical and intuitive.
"The feedback we received from our customers and end users was extremely valuable in the process of designing our new website," said Bill Morreal, vice president of marketing, Juno Lighting Group. "With the new tools and navigation features available on the new Juno Lighting Group site, all users – from architects to home owners – will now be able to quickly locate the luminaire that best suits their needs."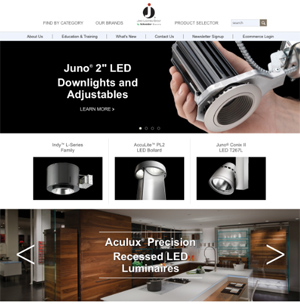 To experience Juno Lighting Group's redesigned website and learn more about the company's innovative luminaires for commercial and residential applications, please visit www.junolightinggroup.com.
About Juno Lighting Group
Founded in 1976, Juno Lighting Group is an industry leader in offering high-quality, energy-efficient commercial and residential lighting solutions. Under the Juno Lighting Group umbrella, the company comprises six product brands: Juno®, Indy™, AccuLite™, Aculux®, NaviLite® and DanaLite. Juno Lighting Group is a Schneider Electric company, a global specialist in energy management.
www.junolightinggroup.com