As one of the premier lighting suppliers for the commercial lighting market as well as the display and OEM market, JESCO Lighting introduces its new DL-FLEX2-DTW flexible LED strip that allows for easy and smooth dimming from a CCT of 3000K down to 1800K.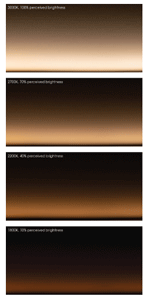 JESCO's Dim-to-Warm LED strip mimics the dimming curve of an incandescent lamp. As the high output LED strip is dimmed, the color output changes to a warmer tone.
The DL-FLEX2-DTW can be controlled by a 0-10V dimmable driver but can also be easily dimmed using a JESCO Triac dimmable driver. The Dim-to-Warm strip, with its built-in intelligent circuit design, eliminates the need of using additional controllers prior to the dimmer – providing savings in cost and installation.
The DL-FLEX2-DTW incorporates tightly binned, 3-step MacAdam LEDs to maintain the highest level of uniformity in its color and its output intensity. This guarantees that different batches of JESCO strip always manifest the exact same specifications no matter when they are purchased, and especially when used side-by-side or end-to-end. The LEDs are specifically selected to provide a high color rendition index (CRI) of greater than 90 and a R9 value also greater than 90.
The DL-FLEX2-DTW also provides a very high LED density – 72 LEDs per foot – to eliminate hotspots and allows for much closer positioning of diffusers without any shadowing.
DL-FLEX2-DTW is field-cuttable every 2 inches for precise sizing for any application. The LEDs are attached to a very thick, 3-ounce PCB that provides optimal thermal management guaranteeing a long life and minimizes any possible voltage drop.
The very low-profile strip measures 7/16" wide and 1/16" tall. Made of highly flexible material, DL-FLEX2-DTW can be applied to most surfaces – straight or curved – using the pre-attached 3M™ double side tape found on its backside.
DL-FLEX2-DTW offers accessories that simply click and lock onto the strip to provide a hardwire or plug & play power connection as well as connecting cables that allow installers to break up a run. JESCO also offers a very large choice of extruded aluminum channels and lenses in a variety of styles for recessed and surface mounted applications.
The Dim-to-Warm strip draws 5.30 watts per foot and has a max run length of 16.4 feet.
JESCO offers a full array of 24 volt drivers and dimmers to power and control the strip.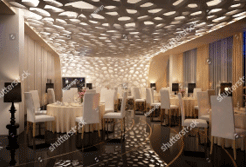 Possible applications for the Dim-to-Warm strip are coves, soffits, over-shelves, under-shelves, toe-kicks, and accent lighting in any commercial and residential project.
A long 50,000-hour-plus operating life, with a 5-year factory warranty, all paired with very low energy consumption and exceptional maintenance savings makes the DL-FLEX-2-DTW well-suited for virtually any interior application where endless design capability, installation flexibility, high lighting performance, energy savings, and little or no routine maintenance are sought-after benefits.
The DL-FLEX2-DTW Dim-to-Warm strip is the latest addition to JESCO Lighting's recent complete redesign and introduction of its DL-FLEX2 flexible LED strip that offers a wide range of static white, color changing, color tuning and specialty options for any design application - reaffirming JESCO as the leader in the flexible LED strip category which it pioneered since its earliest days.
Learn more about JESCO products and capabilities by visiting www.jescolighting.com.
JESCO Lighting is one of the leaders of advanced linear and display lighting, which includes shelf, cove, undercabinet, soffit, and accent lighting offering a wide range of quality products at a considerable value. Beginning in 1998, JESCO is a pioneer in the use of LEDs for luminaires. JESCO LED products have a proven track record in the field and the company has the necessary LED product know-how. The product line is constantly evolving as technology advances. JESCO offers layout assistance and technical support for all. JESCO Lighting Group's architect-designed plant, warehouse, and corporate HQ offices are located at 15 Harbor Park Drive, Port Washington (Nassau County, Long Island), New York 11050. JESCO also has an office and warehouse at 219 South 6th Avenue, City of Industry, CA 91746 as well as a showroom in the Dallas Trade Mart, 2100 Stemmons Freeway, Space TM4313, Dallas, TX 75207.
Telephone: 800-527-7796. Fax: 855-265-5768. E-mail: [email protected].