Power management company Eaton announced today that For Your Home, a popular lifestyle show that airs on PBS, plans to feature several solutions from Eaton's Residential, Wiring Devices and Lighting businesses in an episode expected to air during the spring of 2015. Vicki Payne, design expert and host, will highlight the benefits of Eaton's breakers and load centers, residential wiring devices and lighting solutions for homeowners of all types during the program.

"The different Eaton products showcased on For Your Home offer solutions for what most homeowners are seeking – energy savings, increased reliability and safety, and the versatility to improve a home's look and functionality," said John Krause, division marketing leader, Eaton's Residential and Wiring Devices Division. "This is such an exciting opportunity for homeowners to see Eaton's products featured in a real-life setting."

One of the featured products is the Halo® RL4 Light Emitting Diode (LED) Retrofit Downlight Series, an all-in-one LED module-trim designed to install in 4-inch aperture housings. Suitable for new construction, remodel or retrofit installations, the ENERGY STAR® certified models are damp- and wet-location listed for use in showers and protected outdoor ceilings. These efficient luminaires consume less than 11 watts and are designed to last up to 22 years (based on six hours of daily use).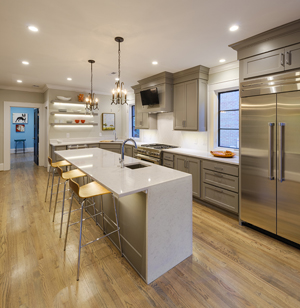 Additionally, several products from Eaton's Residential and Wiring Devices business will be featured, including the AL Series Dimmer, which fine tunes the dimming performance for many of today's most popular light sources including LEDs. Other featured Wiring Devices products include the combination dimmable LED nightlight with receptacle, the USB duplex receptacle featuring two USB charging ports and tamper-resistant receptacles, tamper and weather resistant GFCI receptacles, decorator switches and receptacles and occupancy sensors. The house will also feature Eaton's arc and ground fault breakers and a 200A load center, which together provide the maximum in electrical safety for today's home.

In last season's For Your Home Project House, Eaton's Halo LED downlights helped the home win two Excellence in Remodeling awards from the Home Builders Association of Charlotte, North Carolina.

For Your Home is a national television show about decorating, improving and, most importantly, enjoying your home and garden. The content of this show is geared towards a viewership that maintains an appreciation for traditional style, yet desires a modern more sustainable twist. For Your Home focuses on a variety of topics – from gardening to entertaining – that shares the underlying goal of infusing your home and life with classic style. Every show provides tips and doable project ideas from design expert, Vicki Payne, on transforming a drab space into a visual delight. Whether you're interested in entertaining, decorating or renovating, For Your Home provides realistic ways to give your home true character. With colorful room settings, beautiful gardens and inspiring ideas, For Your Home serves as your very own lifestyle guide to inspiration. For more information on For Your Home, please visit www.foryourhome.com

For additional information on the solutions featured in this episode of For Your Home along with other products offered by Eaton, its residential and wiring devices solutions and lighting business, visit www.Eaton.com, www.cooperwiringdevices.com and www.cooperlighting.com.

Eaton delivers a range of innovative and reliable indoor and outdoor lighting solutions, as well as control products specifically designed to maximize performance, energy efficiency and cost savings. Eaton lighting solutions serve customers in the commercial, industrial, retail, institutional, residential, utility and other markets.

Eaton's electrical business is a global leader with expertise in power distribution and circuit protection; backup power protection; control and automation; lighting and security; structural solutions and wiring devices; solutions for harsh and hazardous environments; and engineering services. Eaton is positioned through its global solutions to answer today's most critical electrical power management challenges.

Eaton is a power management company with 2013 sales of $22.0 billion. Eaton provides energy-efficient solutions that help our customers effectively manage electrical, hydraulic and mechanical power more efficiently, safely and sustainably. Eaton has approximately 103,000 employees and sells products to customers in more than 175 countries. For more information, visit www.eaton.com.