IOTA is pleased to introduce the new ILB-CP10-HE-HV Constant Power emergency LED driver for high voltage applications. High-bay and elevated LED fixtures often require higher Class 1 voltages for providing the increased illumination needed to adequately light interiors from increased heights. Adding emergency egress functionality to these fixtures is simplified by taking advantage of both the ILB-CP20-HE-HV's auto-sensing 50 to 200 Vdc output voltage that automatically adjusts to the LED operating requirements, as well as utilizing the constant 20-watt emergency power for providing optimal, non-diminishing emergency lighting from the elevated fixture.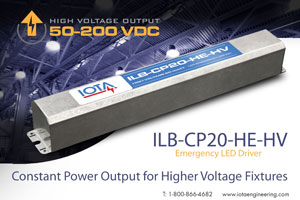 The ILB-CP-20-HE-HV is offered in three different mounting configurations to accommodate various fixture and install scenarios. Additionally, the ILB-CP20-HE-HV features a high-efficiency micro-processor design for compliance with CEC energy standards and is UL Listed for both factory and field installations.
Full product specifications can be found at http://www.iotaengineering.com/ilbcp20hv.htm or by contacting IOTA Customer Service at 1-800-866-4682.
IOTA, based in Tucson, Arizona, is a leading manufacturer and developer of emergency lighting equipment, offering a full line of field and factory-install emergency LED emergency drivers, emergency lighting unit inverters, and emergency ballasts for T-LED and fluorescent lamps.