IOTA® introduces the IOTA ILB CP18 HE CW LP64, an 18W cold-weather emergency driver featuring an innovative two-part external lithium battery design. In the event of a loss of power, the ILB CP18 HE CW 64 enables the outdoor/cold-weather fixture to provide emergency illumination along potentially icy and hazardous outdoor paths of egress.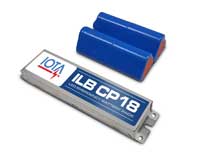 The versatile two-part battery design allows the battery to be configured multiple ways to adapt to interior compartment spaces of outdoor fixtures. The lithium-based technology of the battery also provides size and weight advantages over larger traditional battery types used in outdoor/cold-weather fixture designs. Additionally, the use of lithium technology avoids the need for venting valves when used with sealed and gasketed fixtures.
Other benefits of the IOTA ILB CP18 HE CW LP64 emergency driver include:
-18W Constant Power delivers consistent emergency illumination from Minute 1 to Minute 90
-Wide Auto-Sense forward voltage compatible with 20-58VDC Class 2 luminaires
-Electronics enclosed in a minimal profile, galvanized steel enclosure
-IP67-rated test switch and charge indicator accessory
-High-efficiency design helps meet CA Title 20 energy performance standards for battery chargers
-UL Recognized Component for factory installation
-5-Year Warranty
IOTA's emergency driver designs are carefully engineered, manufactured, and handled to deliver optimal customer satisfaction and performance in the field. For complete product specifications, and to learn more about versatile battery design of the ILB CP18 HE CW LP64, visit www.iotaengineering.com or call the IOTA Customer Service Team at 1-800-866-4682.
About IOTA
IOTA®, an Acuity Brands company, develops and manufactures premium solutions for emergency lighting needs and battery charging applications. Designed and engineered by industry experts, IOTA solutions are manufactured and quality-tested to the highest standards for confident operation and supported by our knowledgeable customer service team. Visit IOTA
About Acuity Brands
Acuity Brands, Inc. (NYSE: AYI) is a market-leading industrial technology company. We design, manufacture, and bring to market innovative products and services that make the world more brilliant, productive, and connected including building management systems, lighting, lighting controls, and location-aware applications. Based in Atlanta, Georgia, with operations across North America, Europe, and Asia, we are powered by approximately 11,000 dedicated and talented associates. Visit www.acuitybrands.com.