Power management company Eaton today announced that it has helped improve the lighting performance and energy efficiency in a campus recreation facility at the University of Illinois at Urbana-Champaign. By replacing almost 400 lighting fixtures in three gymnasiums at the Activities and Recreation Center with Metalux™ HBLED high-bay light-emitting diode (LED) luminaires, the university's projected cost avoidance is estimated to be as high as $70,500 annually.

"The energy-efficient Metalux HBLED luminaire offers customers a reliable, long-lasting, high-performance LED solution," said Mark Eubanks, president, Eaton's Cooper Lighting Division. "The product features our proprietary LED module, providing exceptional performance, equivalent to or greater than fluorescent systems, with the enhanced benefits of LED lighting, including energy savings, extended system life and control capabilities."

Wanting to increase illumination to meet the Illuminating Engineering Society's recommended light levels, as well as save on energy and maintenance costs, electrical engineers chose to replace the existing 400-watt metal halide fixtures with 100-watt Metalux HBLED high-bay LED luminaires.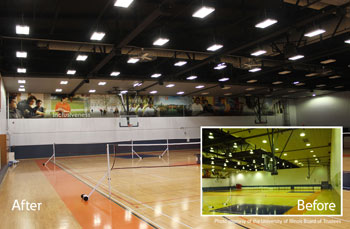 "We chose to use LED fixtures to reduce lighting maintenance labor and electrical consumption since LEDs generate a fraction of the heat compared to other sources," said Tim Madden, vice president and principal, Engineering Concepts & Solutions, Inc. "University staff also wanted the ability to individually control the lighting on each court instead of having to switch on all the fixtures at once."

The Metalux HBLED is an ideal solution for industrial, manufacturing, commercial and other high-bay applications. The luminaire features precision designed optics available in narrow and wide distributions, four lumen packages up to 30,000 lumens and three color temperatures. The product is designed to satisfy multiple mounting heights – even some low-bay applications.

For more information on Eaton's lighting solutions, visit www.eaton.com/lighting.

Since its founding in 1867, the University of Illinois at Urbana-Champaign has been committed to excellence in research, teaching and public engagement. The origins of LEDs are ingrained on the Urbana campus while the technology is a part of its sustainable present and future. University of Illinois alumnus Nick Holonyak Jr. invented the first practical visible-spectrum LED in 1962. Fifty years later, the Chancellor pledged for the campus to become the first major research university to commit to LEDs as its main source of lighting, with interior and exterior wayfinding fixtures to be replaced by 2025 and with the majority of all lighting to be LED by 2050.

Eaton delivers a range of innovative and reliable indoor and outdoor lighting solutions, as well as controls products specifically designed to maximize performance, energy efficiency and cost savings. Eaton lighting solutions serve customers in the commercial, industrial, retail, institutional, residential, utility and other markets.

Eaton's electrical business is a global leader with expertise in power distribution and circuit protection; backup power protection; control and automation; lighting and security; structural solutions and wiring devices; solutions for harsh and hazardous environments; and engineering services. Eaton is positioned through its global solutions to answer today's most critical electrical power management challenges.

Eaton is a power management company with 2014 sales of $22.6 billion. Eaton provides energy-efficient solutions that help our customers effectively manage electrical, hydraulic and mechanical power more efficiently, safely and sustainably. Eaton has approximately 102,000 employees and sells products to customers in more than 175 countries. For more information, visit www.eaton.com.