GREEN CREATIVE, the commercial grade LED lighting manufacturer, proudly announces the launch of its T5 12W HE 3FT. DIR & T5 8W HE 2FT. DIR and LED tubes.
These lamps are compatible with electronic ballasts so no rewiring is required during installation. "These powerful plug-and-play LED tubes help complete the line-up for our T5 replacement solutions," says GREEN CREATIVE's Product Manager, Taylor Schaberg, "With exceptional efficacy and a 50,000 hour lifetime, these lamps provide excellent savings compared to their traditional counterparts."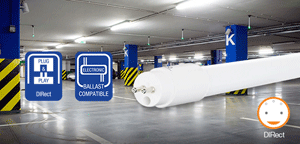 The T5 HE DIR tubes each use a compact light engine to create an evenly diffused light emitting area of 270º. At only 12W and 8W, the 3FT. and 2FT. dimmable lamps emit upwards of 1550 and 1100 lumens on a Programmed Start ballast. These lamps are also suitable for use in totally enclosed fixtures. The T5 HEs all come in a frosted finish and are available in 3000K, 3500K and 4000K CCT.
Detailed information and data sheet for the T5 12W HE 3FT. DIR can be found here.
Detailed information and data sheet for the T5 8W HE 2FT. DIR can be found here.
Detailed information and data sheet for the T5 15W HE 4FT. DIR can be found here.
These products are available through GREEN CREATIVE distributors and are ready to ship from the company's west coast and east coast distribution centers. For more information on where to purchase these products near you or how to become a distributor, please contact GREEN CREATIVE at: [email protected] or (866) 774-5433.
About GREEN CREATIVE
GREEN CREATIVE is a major solid state lighting development and manufacturing company based in the Bay Area, CA. The company specializes in retrofit lighting for the commercial market, offering a comprehensive line of LED lighting solutions. GREEN CREATIVE is fully integrated with strong R&D capabilities to constantly offer the latest technology available. For more information on GREEN CREATIVE please visit www.greencreative.com. For all of the latest updates follow GREEN CREATIVE on Facebook, Twitter and LinkedIn.