GREEN CREATIVE, the commercial grade LED lighting manufacturer proudly announces the launch of its HID LED 25W 277V universal voltage lamp.
The HID LED 25W lamp is the first product to utilize an A-lamp form factor to replace 70-100W HID lamps and was recognized by the 2017 IES Progress Report. At just 25W, this lamp emits over 3300 lumens and comes in E26 and EX39 versions. Both versions run on 120-277V universal voltage and are suitable for use in enclosed fixtures, making them ideal choices for use in bollard, post top and some low bay applications.
"This lamp is building upon the incredible success of our HID LED 16.5W lamp." says GREEN CREATIVE's Marketing Director, Matt Leonard. "Its unique shape and truly omnidirectional light output allow it to be used in a wider variety of applications than traditional LED 'corn lamps.'"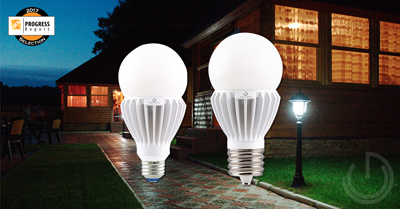 When replacing traditional HID lamps the ballast must be bypassed and the lamp connected directly to line voltage. The HID LED 25W lamp lasts 50,000 hours and comes in 3000K, 4000K and 5000K CCT. The E26 version is ENERGY STAR certified and the EX39 version is DLC qualified.
Detailed information and data sheets for HID LED 25W E26 and EX39 versions are available on the product detail page.
These products are available through GREEN CREATIVE distributors and are ready to ship from the company's west coast, central and east coast distribution centers. For more information on where to purchase these products near you or how to become a distributor, please contact GREEN CREATIVE at: [email protected] or (866) 774-5433.
About GREEN CREATIVE
GREEN CREATIVE is a major solid state lighting development and manufacturing company based in the Bay Area, CA. The company specializes in retrofit lighting for the commercial market, offering a comprehensive line of LED lighting solutions. GREEN CREATIVE is fully integrated with strong R&D capabilities to constantly offer the latest technology available. For more information on GREEN CREATIVE please visit www.greencreative.com. For all of the latest updates follow GREEN CREATIVE on Facebook, Twitter and LinkedIn or YouTube.